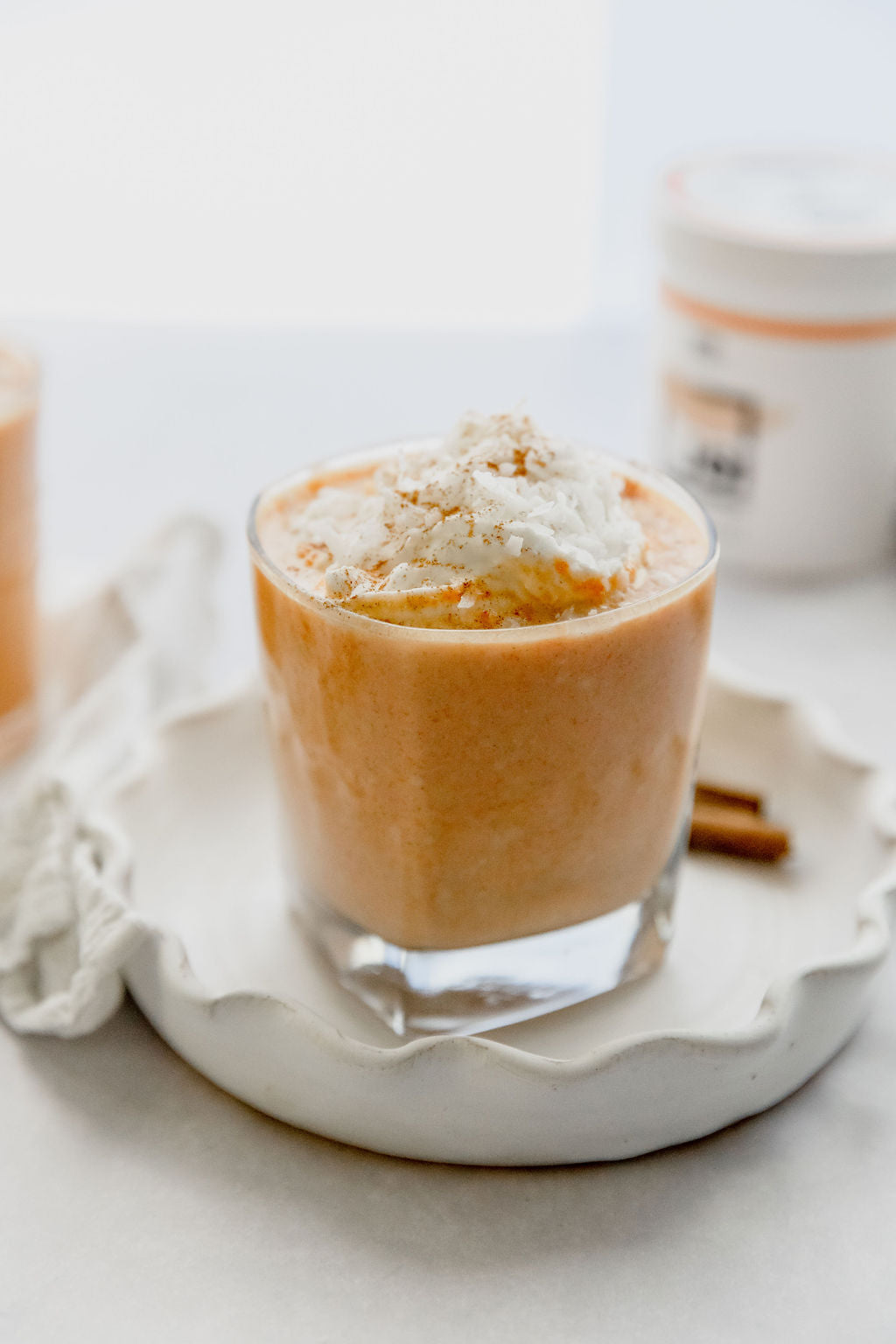 Healthy Carrot Cake Smoothie (Vegan, Dairy-Free)
Apr 18, 2023| By JOI team
< BACK
Apr 18, 2023| By JOI team
Healthy Carrot Cake Smoothie (Vegan, Dairy-Free)
Almond-Base |&nbspBreakfast |&nbspBrunch |&nbspCashew-Base |&nbspCreamer-Base |&nbspDairy-Free |&nbspDessert |&nbspKeto |&nbspOat-Powder |&nbspRecipe |&nbspSmoothie |&nbspSugar-Free |&nbspVegan |&nbspVegetarian |&nbsp
This Carrot Cake Smoothie recipe is filled with carrots, but it tastes like dessert! Delicious and creamy smoothies are a perfect sweet treat any time of year, and this one doubles as breakfast. 
What is in this Recipe?
This bright orange smoothie has lots of yummy warm spices to play up the sweetness in the carrots.
It also has a big scoop of JOI plant milk concentrate to add extra creaminess plus nutrition. By freezing your carrots and banana you eliminate the need for ice which makes this smoothie even creamier!
For this light smoothie-version of carrot cake, we're swapping that cream cheese icing for a delicious coconut whipped cream and a dusting of shredded coconut. It adds extra sweetness and makes it feel like a super special treat!
Why Use JOI in this Recipe?
JOI plant base is a great addition to any smoothie recipe.
It's made from whole nuts, grains or seeds and is free of sugars, oils, additives, or preservatives.
JOI plant base adds extra creaminess to this healthy carrot cake smoothie and makes it more satisfying and nutrient-dense.  JOI nut and seed milks contain higher levels of protein, omegas, fiber and vitamins than your typical boxed plant milks.
Unlike other plant milks, JOI products are shelf-stable concentrates.  That means you can make as much or as little milk as you need, when you need it.  That reduces food waste, packaging waste and improves your carbon footprint.
JOI plant base is also versatile and can be used in many recipes, not just for making milk.  Try JOI in soups, sauces, dips, dressings and baked goods for a hit of creamy nutrition, without the dairy. And, because of JOI's neutral taste, you don't have to worry about the flavor overpowering recipes, like you do with coconut milk.
How to Customize This Recipe
This carrot cake smoothie recipe can be easily customized to suit your taste preferences.
If you prefer a sweeter smoothie, you can add more maple syrup or another sweetener of your choice (honey, date syrup, agave). Or you can add frozen pineapple instead, which is naturally sweet and also a classic ingredient in carrot cake.
If you want a thicker smoothie, you can add more frozen banana and some chia seeds. Or use less liquid.
If you like a spicier smoothie, you can increase the amount of cinnamon or nutmeg. Play around with other spices, such as cardamom and allspice too!
The possibilities are endless, so feel free to experiment with different combinations until you find the perfect carrot cake smoothie recipe for you.
How to Make this Smoothie Into a Smoothie Bowl
If you want to turn this smoothie recipe into a smoothie bowl, it's easy to do. Simply use less liquid when blending the ingredients together, so the mixture is thicker. We also like to add a spoonful of chia seeds to help with the thickening. You can also add a scoop of protein powder to make it more filling.
Pour the mixture into a bowl and add your favorite toppings, such as shredded coconut, sliced banana or other fresh fruit, or chopped nuts and seeds.
Why Use A Dairy-Free Recipe?
If you're lactose intolerant, or have a dairy allergy, vegan or plant-based, this dairy-free carrot cake smoothie recipe is a great alternative to traditional smoothies.  Many people are making the switch away from dairy for health reasons.
But because it's made with creamy JOI almond milk and coconut whipped cream, you won't miss the "dairy factor". Both of these alternate ingredients add extra creaminess without the use of dairy products, like plain greek yogurt.
And JOI almond, cashew and hemp deliver on all of the protein and healthy fats that you deserve!
Other Tips and Tricks
Instead of freezing carrots, you can also try freezing trays of carrot juice instead. We like fresh carrot juice best if you can get it or make it.
And, if neither of those are handy, just use shredded carrots instead and add a little extra ice!
You may also like to add a pinch of salt and a squeeze of fresh lemon juice to your smoothie for extra layers of amped-up flavor.
Here's the Recipe:
This carrot cake smoothie recipe is a healthy and delicious way to enjoy the flavors of carrot cake without the guilt. It's packed with nutrients and protein, and it's a great way to start your day or to enjoy as a snack. With its creamy texture and warm spices, this smoothie is sure to become a new favorite. So jump to the recipe and give it a try!
Other Smoothie Ideas
Smoothies are a great way to pack some extra fruits and veggies into your diet. They're quick and easy to make, and you can customize them to suit your taste preferences. Plus, they're filling and refreshing any time of day.
Here are some other smoothie recipes you might want to try: