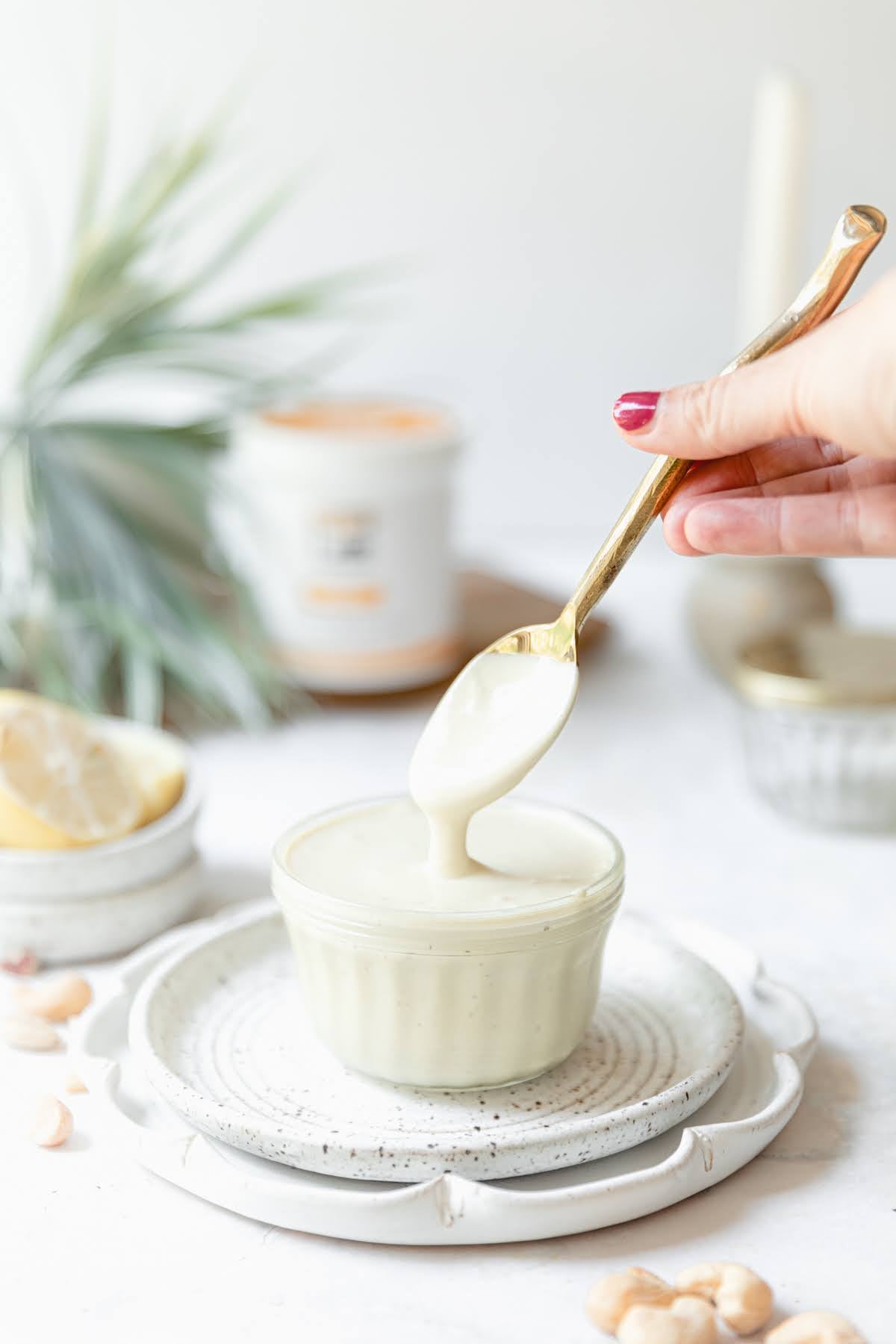 The Only Vegan Mayo Recipe You'll Ever Need
Jul 29, 2021| By JOI team
< BACK
Jul 29, 2021| By JOI team
The Only Vegan Mayo Recipe You'll Ever Need
Almond-Base |&nbspCashew-Base |&nbspCreamer-Base |&nbspDairy-Free |&nbspKeto |&nbspOat-Powder |&nbspRecipe |&nbspSauce |&nbspSugar-Free |&nbspVegan |&nbspVegetarian |&nbsp
Worried that switching to a vegan mayo means tons of time in the kitchen or a mayo that's not as creamy?  Worry no more! With this super simple recipe, you'll have a deliciously tangy and creamy condiment that comes together in about 5 minutes. 
It's perfect for all of those summer dishes! Here's how to make it:  the best-tasting mayo you've ever had. 
Vegan Mayo Ingredients
Our list of simple ingredients comes together to create this bright and flavorful vegan mayo. Not only is it delicious, but it's also much healthier than the store-bought vegan mayo and salad dressings you find in supermarkets. 
By using our cashew JOI nut base, you can easily jazz up your mayo with some health benefits you won't find in traditional versions. That includes heart-healthy fats, fiber, and antioxidants that support good health.
Lemon juice adds a fresh and tangy flavor that makes our vegan mayo perfect for your favorite summertime recipes. 
We love adding dijon mustard too. It adds a delightful new layer of flavor that you won't find in other vegan mayo recipes. 
The addition of sea salt enhances the taste of the mayo and makes it ideal for adding to salads, sandwiches, and many other tasty recipes. 
Using nutritional yeast has several benefits. Not only does it add protein, but also vitamins (including vitamin B12), minerals, and antioxidants that you won't find in other mayo. 

Equipment You Need to Make Vegan Mayo
One of the best things about our super easy mayo recipe is that you don't need any fancy equipment to get the job done. 
A food processor or immersion blender makes it easy to whip the ingredients together. A blender also works great if that's what you have. 
A simple measuring cup and measuring spoon makes it easy to get the right amount of each ingredient so that you get the perfect blend of flavors. 
Beyond that, a mason jar is all you need to keep the finished mayo fresh in the refrigerator. 

How to Make Vegan Mayo
Did we mention how simple this is? We love developing recipes that fit with your healthy but busy lifestyle. That's why we created this fast and easy mayo.
Start by adding all of the ingredients to your food processor. If you're using an immersion blender, place them in a narrow bowl or jar that makes it easy to blend. Then, simply blend until the mayo is well-mixed and reaches a creamy consistency. 
Like other kinds of mayo, the finished product shouldn't be stored at room temperature. Instead, keep your vegan mayo in a jar in the fridge. This keeps it fresh and preserves the tangy flavor. 

Easy Ingredient Swaps & Flavors
We're fans of experimenting in the kitchen and trying new things. With that in mind, we have a few ideas for switching up the taste of your vegan mayo and making it your own. 
Instead of the lemon juice, try apple cider vinegar or white vinegar. You'll get the same tanginess but with a different layer of flavor. 
Feel free to try other kinds of mustard, such as simple yellow mustard or spicy mustard. This lets you try something new and delicious without having to change the recipe.
Do you have almond JOI base but not cashew on your pantry shelf? Either base works well in this recipe. 
Have lots of herbs growing in your garden or wilting in your produce drawer?  Why not blend them in for a fresh, green take on mayo?  Or add a clove of garlic for a punchy aioli take on this recipe.  Try playing around with different spices from your drawer - perhaps some smoked paprika or chipotle spice for a different twist. 

One of the best things about this recipe is that it's incredibly versatile and gives you plenty of chances to switch things up. You've got to love that!
Why Use JOI?
Our products have loads of benefits, and sharing them with you makes us JOI-ful.  
In this particular recipe, we love using our cashew JOI nut base. It lends the mayo a creamy consistency and won't separate like recipes that call for extra virgin olive oil, avocado oil, or canola oil. 
Our JOI products are shelf-stable and ready to use anytime. They make a great substitute for dairy ingredients in your vegan recipes. That includes those that call for soy milk, coconut milk, butter or cream. 
You have control over your ingredients when you make your own mayo.  You know exactly what's going in. That means a healthier version that you can feel good about eating, as well as serving to your family. 
What to do with Vegan Mayo
When it comes down to it, you can use vegan mayo in any recipe that calls for traditional mayo. This recipe has a bright, bold flavor that works well in many ways.
Use it to make your favorite summertime pasta and potato salad. Slather it on bread for your favorite vegan sandwich at lunchtime. Whip up some chickpea salad on crackers for a healthy snack.
Use it to add flavor to veggie burgers, hummus, and coleslaw. Our vegan mayo is also a tasty base for vegan salad dressing that you can drizzle over your favorite veggies all summer long. 
Getting Started
The best way to start enjoying healthy and delicious vegan mayo is to get into your kitchen and whip up a batch. Your first try will tell you which ingredient swaps you might want to make. 
One taste of this flavor-packed vegan mayo will inspire you to start using it in all kinds of meals and snacks. You'll be hooked in no time.