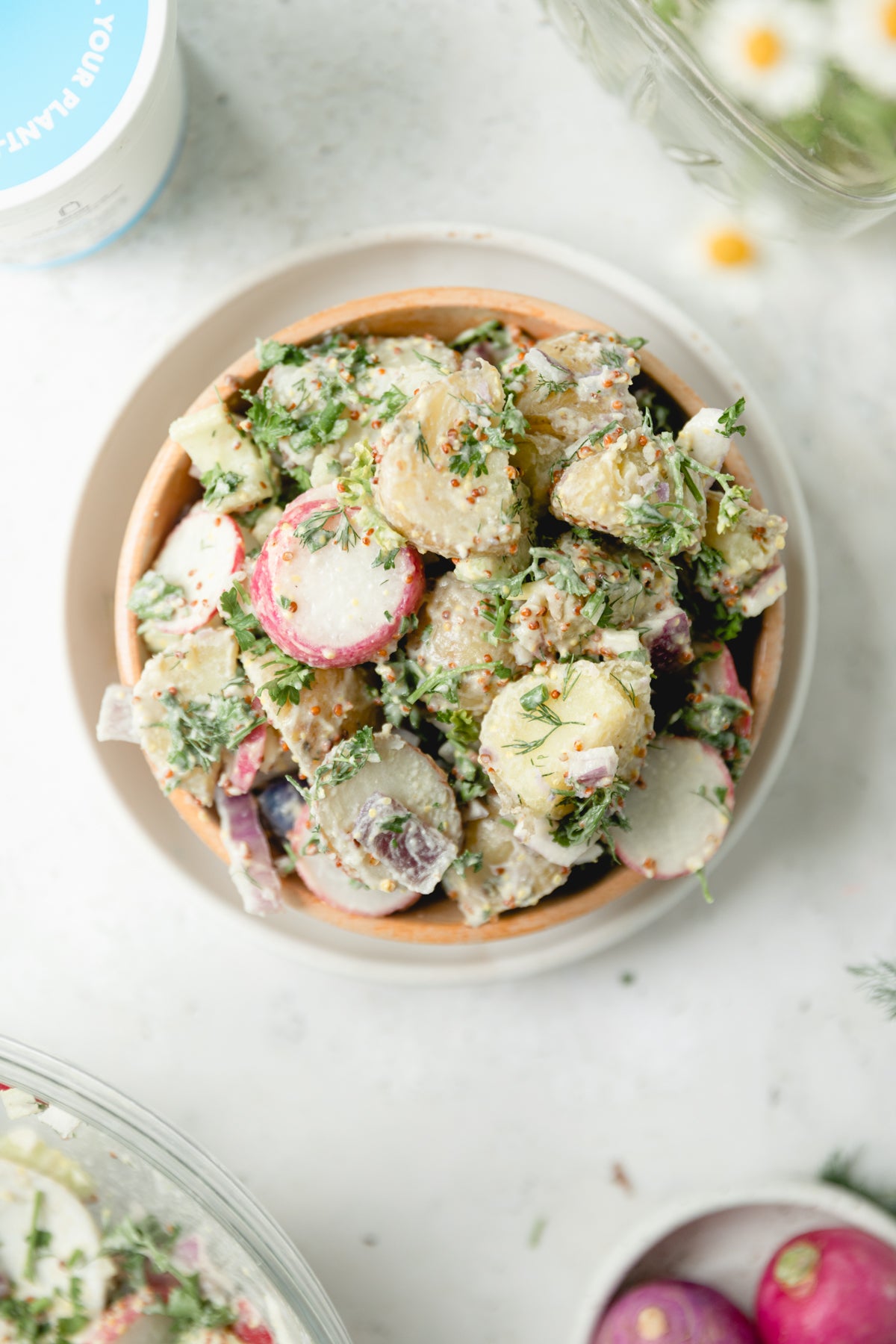 Best Vegan Potato Salad Recipe
May 19, 2023| By JOI team
< BACK
May 19, 2023| By JOI team
Best Vegan Potato Salad Recipe
Almond-Base |&nbspAppetizer |&nbspCashew-Base |&nbspCreamer-Base |&nbspDairy-Free |&nbspDijon |&nbspDinner |&nbspGluten-free |&nbspKeto |&nbspLunch |&nbspOat-Powder |&nbspRecipe |&nbspsalad |&nbspSugar-Free |&nbspVegan |&nbspVegetarian |&nbsp
What would summer look like without a classic potato salad to grace your gatherings? Dreary, indeed! So, we set out to create a more healthy potato salad. One that will shine on your table even if it's "just a side dish"! And we're sharing all of our top secrets and tips for ensuring maximum flavor whenever it's served.  
Healthy for ALL Diets
This "back pocket" recipe packs all of the essential summer flavors in every single bite. It's a creamy potato salad... but contains no mayo, greek yogurt, other dairy or olive oil. (JOI is the secret ingredient!) It's loaded with veggies, and vegan to boot.  
Because we wanted to create a classic potato salad that everyone can enjoy. Whether you are bringing it to a summer cookout with guests of every dietary stripe (gluten free, dairy-free!), or serving it in your own backyard to your nearest and dearest.  This recipe works for just about any diet.
Plus, potatoes are relatively inexpensive and nutrient-rich! Whether you're opting for red potatoes, russet potatoes or yukon gold potatoes, you'll be getting a natural dose of vitamin C, vitamin B6 and potassium! Opt for those eye-catching purple potatoes and you'll benefit from a natural source of antioxidants. Healthy, indeed!  
Break out that red and white checkered tablecloth and let's celebrate summer with this iconic side dish, made more healthy thanks to JOI.  Use almond, hemp or cashew!
A Healthier Dressing
The first secret to lightening up your potato salad is in the creamy mustard dressing. We found that combining equal parts whole grain dijon mustard and JOI plant base retains all of the richness and flavor of the traditional recipe, while remaining oil free and egg free!
The creaminess of the JOI plant base cuts through the tang of the mustard really nicely, and, after the mixture is thinned out with a splash of water, it's the perfect potato salad dressing. 
Ditch mayonnaise and go dairy-free with this healthy potato salad recipe. And you don't even have to worry about a mayo or sour cream-based salad spoiling in the sun!
One last thought.  Make a double batch of this dressing.  Use it as a dip with crudités, to dress a kale salad or on top of grilled or roasted veggies!
Dress WARM Potatoes
Here's the next secret to elevating your potato salad: make the dressing while your potatoes boil, and toss them with half of the dressing while they are still fork tender and warm.  Make sure you add enough salt and pepper to the dressing - potatoes can take a LOT of seasoning!
Then pop the dressed potatoes in the refrigerator to cool. The warm potatoes will soak up the flavor of the dressing to a greater extent than once they have cooled. Reserve the remaining dressing for tossing with the crispy vegetables you will add later, once the dressed potatoes have cooled. 
Add More Vegetables and Herbs
In addition to a tangy, delicious dressing, this potato salad is brimming with summer vegetables and herbs! Dill, parsley, and chives brighten up the salad. Crisp radish, onion, and celery add crunch, freshness and texture.
Another tip: try adding or swapping your favorite summer vegetables….peppers, cucumbers, or even corn, perhaps? Chopped dill pickle adds a crunchy, sour note if that's your bag. Swap out red onion with scallions or green onion if you prefer. The possibilities are endless! Just build upon your back pocket potato-plus-dressing combination and find a new formula every time you make this delicious salad. 
And don't stop at the vegetables...play around with the herbs as well. Mint and cilantro could be a fresh alternative for a change, for example. Basil would offer a more "earthy" take on this salad, or choose chopped tarragon for a French flair.

Make it Ahead
For the final secret: make it a day ahead! This salad becomes more flavorful and delicious as it rests, because the dressing absorbs throughout and all of the flavors meld. If you have time the day you are serving the salad, consider reserving the herbs and adding them prior to serving, rather than overnight, so that they remain fresh.
Or, you can even just prep some of the ingredients ahead and throw it together the day of. Boiling potatoes is probably the most time-consuming part of this recipe. So get that done a day or two ahead.
Build your Table from Potato Salad
Consider building your table around this leveled-up classic. Looking to add another cold salad or two? Consider making our Street Corn Salad or Broccoli Slaw. If you've got the grill going, make our Grilled Vegetables with Whipped Avocado Dip. Cold Sesame Noodle Salad add bulk and flavor to the table, and for dessert Grilled Peaches with Cashew Vanilla Drizzle are sure to be a hit. These dishes will be all the fireworks you need to dazzle your guests all summer long! 
A Recap of all those TIPS and SECRETS:
Add PLENTY of salt to your water when boiling potatoes
Lighten up the dressing with JOI plant base + dijon
Dress your potatoes when warm
Add more veggies!
Use the basic recipe as a starting point, then get creative swapping out veggies and herbs
Make it ahead of time for ease and to maximize flavor