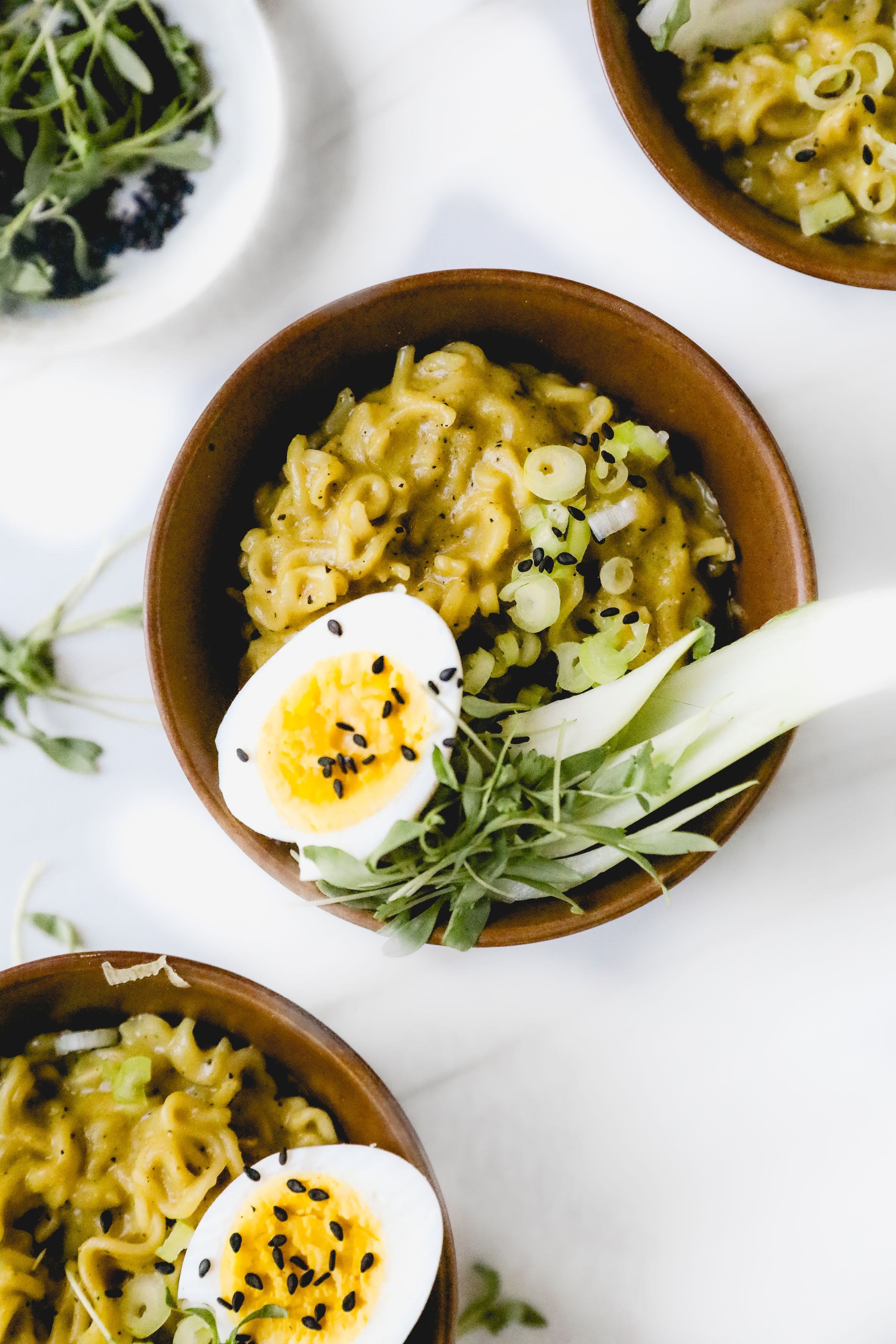 Creamy Miso Ramen (Vegan)
Nov 13, 2020| By JOI team
< BACK
Nov 13, 2020| By JOI team
Creamy Miso Ramen (Vegan)
Almond-Base |&nbspCashew-Base |&nbspDairy-Free |&nbspDinner |&nbspLunch |&nbspRecipe |&nbspSoup |&nbspSugar-Free |&nbspVegan |&nbspVegetarian |&nbsp
Soup season is upon us, but let's set aside all of those traditional vegetable soups and let this ramen bowl have a moment. With all your favorite toppings, and a swirl of JOI for creaminess, these Miso Ramen bowls will be your new favorite go-to.
What's in the Recipe?
This is a pretty basic soup recipe with a couple of key ingredients (plus lots of toppings):
First, miso paste.  Have you cooked with it yet?  Miso is a fermented soybean paste. It adds tremendous umami flavor.  Plus, since it's fermented, it brings good-for-your gut benefits to this soup (just don't overheat the miso paste and kill those good microbes!).
We round out the savory bowl of noodles with a dollop of JOI to create the creamiest broth for these noodles to soak up.  No dairy required! Plus, JOI adds a boost of nutrition too. Shop it here.
How Can I Customize this Soup?

Have fun with this soup by play around with the toppings!
While this is mostly a noodle soup, go crazy with the toppings at home.
Greens! Baby bok choy, spinach, kale, swiss chard

Veggies: broccoli, shredded carrot

Protein: shelled edamame, hard boiled egg (not vegan), tofu, shrimp or chicken

Herbs & Seeds: Thai basil, black sesame seeds, green onion
These are just some of the  amazing healthy toppings that can transform this simple noodle dish into a show stopping meal.  Get creative and clean out that produce drawer!
What's that Flavor Combination?
We've also included our own version of ramen seasoning that won't leave you feeling icky. This low sodium version is going to be your go-to! Get that take-out flavor at home this season with Creamy Miso Ramen.
What Other Soup Recipes can I Make that Are Dairy-Free?
We've got a ton more soup recipes on our blog.  From pea soup, to tomato soup, to carrot soup to cauliflower soup and more!  Check them out.
Here's the Recipe: