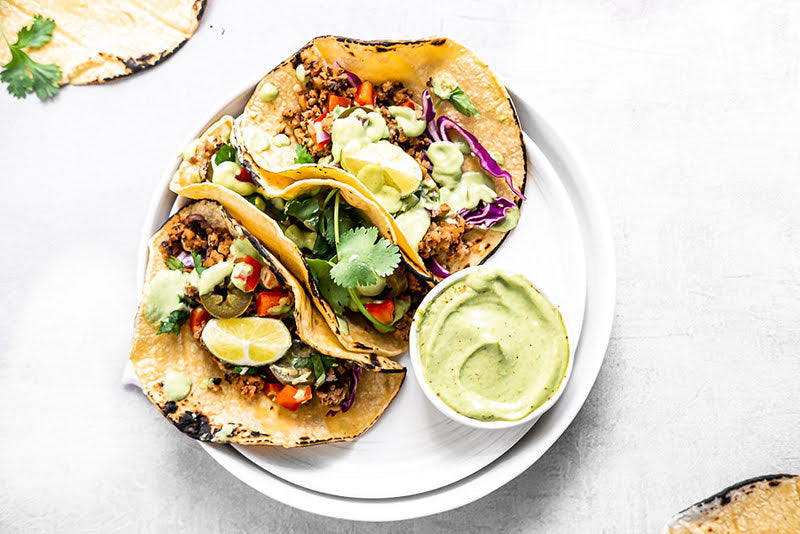 6 Recipes for a Vegan-Friendly Cinco de Mayo Celebration
< BACK
May 5, 2022| By JOI team
6 Recipes for a Vegan-Friendly Cinco de Mayo Celebration
Almond-Base |&nbspBeverage |&nbspBreakfast |&nbspCashew-Base |&nbspCreamer-Base |&nbspDairy-Free |&nbspDessert |&nbspDinner |&nbspHoliday |&nbspKeto |&nbspLunch |&nbspOat-Powder |&nbspRecipe |&nbspSnack |&nbspSugar-Free |&nbspVegan |&nbspVegetarian |&nbsp
Over the past few years, we here at JOI have made it somewhat of a personal mission to bring out the best of traditional flavors in healthier, dairy-free, and vegan-friendly formats. The fruits of all this hard work? A truly tasty vegan Cinco de Mayo recipe spread to spice up any fiesta!
What is Cinco de Mayo?
Fun fact - did you know Cinco de Mayo is actually more widely celebrated in the United States than in Mexico? Another fun fact - Cinco de Mayo is often mistaken as the Mexican Independence Day, which is actually celebrated in September.
Technically, the holiday commemorates the Mexican Army's victory over the French in 1863 at the Battle of Puebla, part of the larger Second French Intervention in Mexico.
Practically, Cinco de Mayo has become a day to celebrate the rich Mexican-American culture - for those of us who identify as part of it, and those who simply appreciate it.
Now, JOI calls Miami home, and if you know anything about Miami, you know we're proud of our Central and South American roots. Cinco de Mayo is definitely a *thing* for us - especially because food is a huge part of Cinco de Mayo (and you know we love food).
And if you think Mexican food is all about slow-braised meats and cheese, think again. Mexican cuisine brings together so many delicious flavors and fresh ingredients.
Every party needs a good dip on the menu. Whether you're hanging around the food table for something to do, or need something to soak up a couple too many liquid snacks, a good dip is easy, approachable, and highly snackable. And "queso" is truly one of life's small pleasures. This vegan nacho cheese version ditches the heavy dairy and taco meat, but keeps all of the smooth, decadent, savory goodness.
In this variation from The Naked Bite's Chef Amber, JOI plant base is combined with roasted red peppers and rich and smokey spices for a vegan queso no one will raise an eyebrow at. We suggest a double batch and a second bag of tortilla chips - this party food will go fast.
A salad that doubles as salsa? Yes, please.
Traditional street corn salad combines fresh corn kernels with chopped bell peppers, jalapenos, and tomatoes, topped with shredded cheese. We've swapped the traditional cheese sauce for homemade roasted tomato and chile salsa made creamy with the addition of JOI plant base. Serve this as a stand-alone gluten free side dish. Or crack open a bag of corn chips and start dipping--either way, this street corn salad is bright, delicious, and perfect for springtime al fresco dining.
If you're still not convinced vegan entrees can be rich, filling, and indulgent, this entree will dispel all your doubts. Jackfruit is a vegan favorite that mimics the hearty texture of meat, without any artificial ingredients or taste. Better yet, jackfruit is easy to cook with a simple steaming method.
This vegan enchiladas recipe relies on pulled jackfruit combined with JOI plant base and taco seasoning, sweet potato, and black beans for an incredibly flavorful, and surprisingly healthy, filling that's finished with fresh salsa verde. The perfect make-ahead main dish for your vegan cinco de mayo party!
Believe it or not, tacos are incredibly vegan friendly. This particular variation relies on chopped mushrooms, walnuts, chopped onions and peppers, plus taco seasoning and soy sauce or coconut aminos to make up the 'meat' of the tacos. Finish with a fresh crema made of blended JOI almond base, fresh avocado, lime juice, and cilantro, and you've got a 100% satisfying, 100% tex-mex, vegan entree.
Cinco de Mayo isn't complete without a delicious adult beverage. But, that doesn't mean you're limited to heavy cervezas or sugary margaritas. Our vegan take on the classic pina colada is a decadent blended cocktail made from traditional pineapple, coconut rum, and JOI cashew plant base in place of cream. Top with coconut whipped cream and maraschino cherries for a real dessert drink! 
Every good warm-weather, backyard celebration needs a refreshing finish. Key Lime Pops made with avocado, JOI Almond base, and fresh key limes are the perfect way to cool down without sacrificing health for an indulgent dessert. For a little extra pizazz, crumble graham crackers and dusted the pops for garnish. If you can't get your hands on a popsicle mold you can definitely use this as a no-churn ice cream as well.
Ready to start prepping for your healthier Cinco de Mayo celebrations? Better stock up on JOI plant bases! Shop your favorite flavor here.