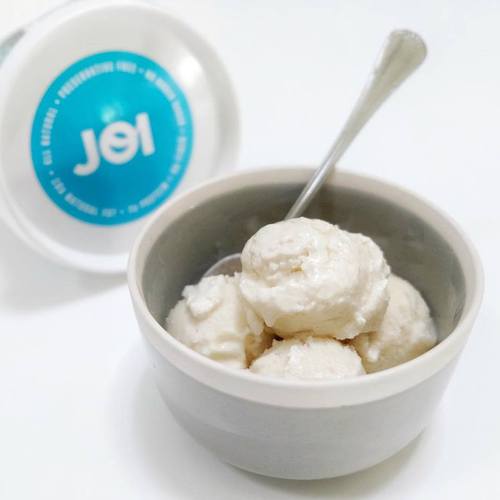 Complete Guide to Homemade Vegan Ice Cream Recipes
Jun 10, 2021| By JOI team
< BACK
Jun 10, 2021| By JOI team
Complete Guide to Homemade Vegan Ice Cream Recipes
Almond-Base |&nbspCashew-Base |&nbspCreamer-Base |&nbspDairy-Free |&nbspKeto |&nbspOat-Powder |&nbspRecipe |&nbspSugar-Free |&nbspVegan |&nbspVegetarian |&nbsp
I scream, you scream, we all scream for... a delicious, homemade, vegan, ice cream alternative!
Now, those may not be the original lyrics, but it's time to reinvent this classic summer treat. We've seen a trend in all things plant-based, and vegan ice cream is no exception. 
As we become more conscious about what's in our food, we are always looking for healthier substitutes and homemade alternatives. Not only does this give us control over what ingredients go into our foods, let's face it, the word "homemade" feels like a hearty hug from grandma. 
We've taken our inspiration from local ice cream shops that are dedicated to natural, quality ingredients for their vegan options. This delightful ice cream truck dishes out an assortment of vegan treats and serves up a mission we really dig.
So, we want to give you the scoop (full pun intended) on plant-based ice creams with recipes you can make at home, and feel good about eating!
Why Vegan Ice Cream?
It's no secret that many traditional ice cream varieties contain a ton of added sugar. Depending on the brand, just a 1/2 cup serving of ice cream can contain up to 24 grams of sugar, pushing the daily limit on what is recommended for a healthy diet. 
Excessive sugar intake has been linked to health issues such as heart disease, diabetes, and obesity.
Not only that; many ice cream brands (even store-bought plant-based ice creams) are highly processed and contain artificial ingredients, additives, and preservatives. They do not offer much in the way of nutritional content but are quite high in calories. 
Plant-based ice cream, on the other hand, especially when homemade, has fewer ingredients, is less processed, and much lower in sugar content.  
Additionally, because vegan ice cream is gluten-free, dairy-free, and plant-based, it accommodates a wider range of dietary requirements. What a relief for our next summer barbeque!
Selecting the Right Ingredients 
Now, we want to use a small number of easy-to-read ingredients, low sugar alternatives, and natural substitutes.  
Basically, we want real food.
Pick a Non-Dairy Base
First, choose a non-dairy base.  We can use a variety of dairy-free milk options, such as store-bought soy milk, almond milk or cashew milk. However, because your typical processed, boxed milk alternatives are much lower in fat content than traditional dairy milk, they may not give our ice cream the creamy texture we desire.  Here's where JOI comes in.  Because using JOI plant milk concentrates gives you total food freedom, you can control how creamy and rich in protein, fiber and healthy fats your plant milk is, making JOI plant milk bases an ideal option for ice cream bases.  Want a more creamy, rich milk for ice cream?  Just add more JOI per serving of water.
Another good option is coconut cream. It is similar to coconut milk but it contains double the coconut and gives a creamier texture. Coconut also tends to pair well with many flavors, such as chocolate, vanilla, and fruity selections.  However, if you want to reduce the "coconutty" taste, try using JOI as your primary base and add some coconut cream for an extra smooth and mouthfeel and boost of creaminess.  That's the idea in our Vegan Vanilla Ice Cream recipe, which contains both JOI and coconut cream for a perfect ice cream base combination.  Or for another interesting twist, try substituting coconut water for regular water, like we did in our Coconut Fruit Popsicles recipe.
Add Real, Whole Food Ingredients
Try boosting the nutritional content of your vegan ice cream by adding whole food ingredients that do double duty as ice cream enhancers!
Avocado is an underrated player in the vegan ice cream game. It has a naturally smooth and creamy texture with a neutral flavor and healthy fats (fat is the name of the game in the ice cream world!). Avocado is also a great addition when preparing your homemade ice cream without any equipment because it is so easy to whip up.  
Another awesome ingredient, which we actually think should be a staple rather than an "alternative", is bananas. Bananas are surprisingly neutral while still adding a touch of sweetness and density. You can also easily pair banana with cocoa powder to step up its flavor.  Check out our recipes for Blackberry Nice Cream and Chocolate Banana Ice Cream With Hazelnut, which both use bananas as a complement to a JOI base.
Toppings & Sweet Additions
Not every recipe will need an extra dose of sweetness.  But for those recipes that do (or because you have an extra sweet "sweet tooth"!) maple syrup is a wonderful low-sugar, refined sugar-free way to sweeten your homemade plant-based ice cream.  Agave syrup or honey (which is not vegan) are terrific alternatives as well.  And using dates or date syrup is another way to go!
Vanilla bean, whether using vanilla extract or scraping from the pod itself, is a great way to add flavor while also enhancing the other ingredients in the recipe.
Adding a pinch of sea salt is a pro tip that will boost flavor and round out the sweetness in any ice cream recipe.  
Lastly, vegan dark chocolate chips are a no-brainer for those who love chocolate and who fancy a guilt-free indulgence. 
Tips and Tricks for Easy Prep 
No ice cream maker? No problem!
Use a food processor, blender or high speed blender to thoroughly mix together your ingredients  

Pour the contents into a pan, such as a loaf pan

Use a metal pan for quick freezing 

Let the pan freeze with the contents for 45 minutes 

Use a fork to scrape or a whisk to "churn" the ice cream and soften ice crystals off of the surface and the edges of the pan

Place back into the freezer 

After 30 minutes, scrape the contents again
Repeating this process for a few hours, every 30 minutes will create a smoother texture in your ice cream. Depending on your base, you will have a creamy and rich texture if you use a thicker milk alternative.
Finally, freeze for three to four hours and enjoy.
The process is well worth it and your tastebuds will thank you!
And, if you don't have time to hand "churn" your ice cream, just come back two hours later and your ice cream will have the consistency of soft serve ice cream.  Or come back four or more hours later and your ice cream will have the consistency of a traditional ice cream.  
Any ice cream recipe can also be poured into popsicle molds and frozen, or poured into your ice cream machine following the manufacturer's instructions for use.
Two Easy at Home Recipes
Now that we've got our technique down and we've picked our ingredients, it's time to make some ice cream!
Here are our favorite recipes for quick tasty treats with only a few ingredients.  We'll start with chocolate and vanilla, of course, but with mix-ins and a dash of kitchen creativity, you'll be creating your own unique dairy-free ice creams in no time.
 Avocado Vanilla Ice Cream (Nice Cream) Recipe
Ingredients: 
1 ripe avocado

1 frozen banana (sliced frozen banana)

1 1/4 cups of water

4 Tablespoons of cashew, creamer or almond JOI plant base 

1/2 teaspoon of vanilla extract or vanilla bean pulp

2 tablespoons of organic maple syrup (or any alternative, such as agave syrup)

Pinch of sea salt
To make your ice cream, blend together all ingredients using a food processor and place the contents in the freezer for 1-2 hours.  Follow the technique described above for best results.
Chocolate "Chip" Ice Cream Recipe
Ingredients:
1 ¾ cups of water

¼ cup of maple syrup (or any alternative, such as date syrup)

½ cup of almond, cashew or creamer JOI plant base

1 teaspoon of vanilla extract

1 Tablespoon of cocoa powder (or substitute raw cacao powder)

Pinch of sea salt

½ cup of cocoa nibs or chocolate chips, optional
Blend together all ingredients other than the cacao nibs (or chocolate chips), if using, in a food processor or blender.  Once prepared, fold in the cocoa nibs (or chocolate chips), and then place the mixture in a loaf pan in the freezer for at least two hours.  For best results, use the hand "churn" method described above if you have the time.
The Final Scoop
Now we've equipped you with quick and easy options for beating the summer heat while making healthier lifestyle choices. You've heard vegan ice cream being referred to as "nice cream" and we know how nice it is on our bodies. 
The plant-based trend is here to stay and if that means we can have our ice cream and eat it too, we are all for it! 
For more awesome plant-based options and delicious dairy alternatives, check out the full recipe blog on our website and try out some of our other healthy, fun and easy plant-based recipes!