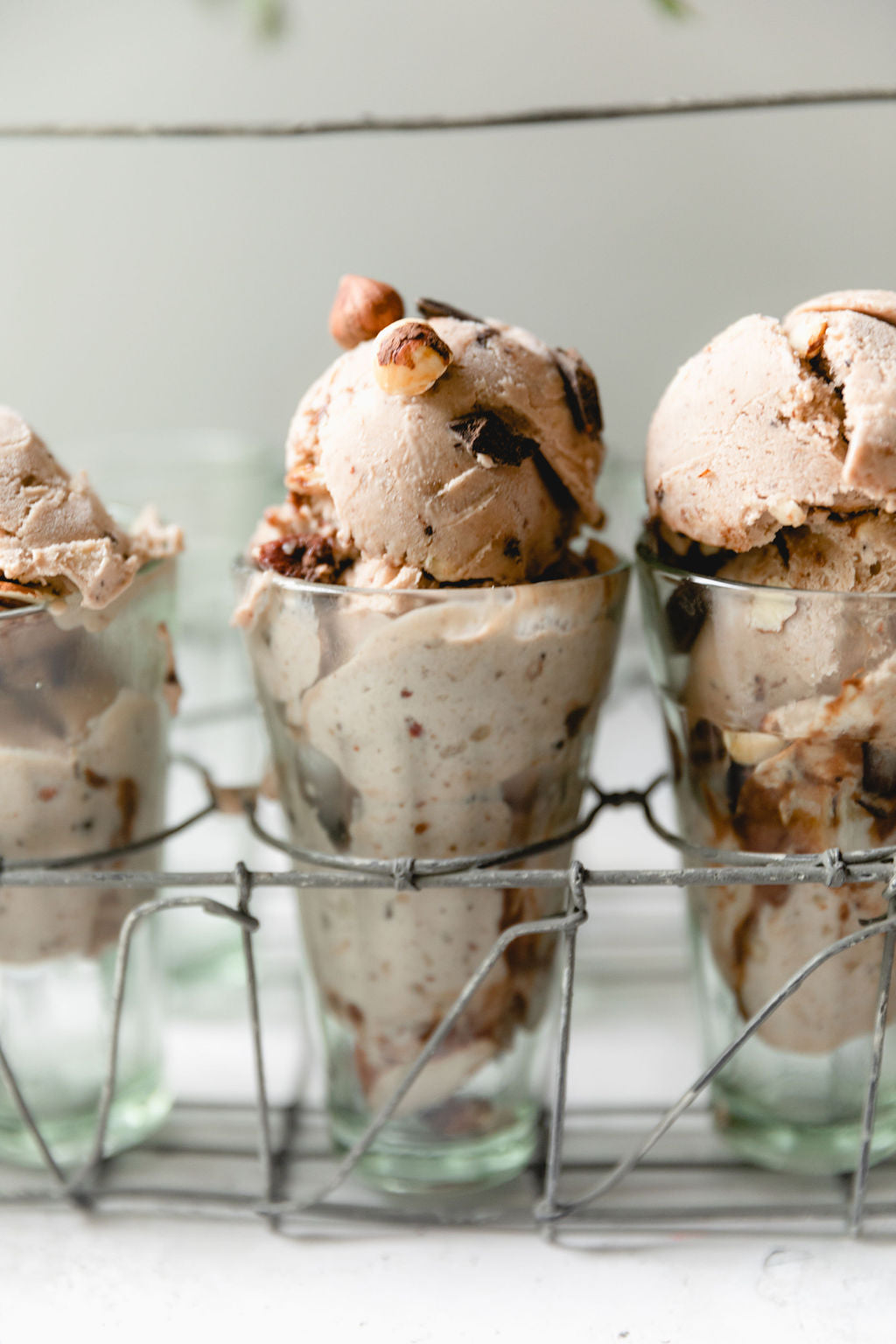 Best No-Churn, Easy Vegan Chocolate Banana Ice Cream Recipe
Jun 10, 2021| By JOI team
< BACK
Jun 10, 2021| By JOI team
Best No-Churn, Easy Vegan Chocolate Banana Ice Cream Recipe
Almond Milk |&nbspAlmond-Base |&nbspCashew Milk |&nbspCashew-Base |&nbspCreamer-Base |&nbspDairy-Free |&nbspDessert |&nbspIce Cream |&nbspKeto |&nbspNice Cream |&nbspOat-Powder |&nbspRecipe |&nbspSugar-Free |&nbspVegan |&nbspVegetarian |&nbsp
When the craving for cold, delicious ice cream strikes, the last thing you want to experience is guilt.

If it isn't the guilt of consuming dairy, it's the guilt of using processed almond milk (or other processed plant-based milks) in your recipe, which are full of gums, fillers and gunk! You know that you can make ice cream at home, but without an expensive, complicated ice cream machine, you are out of luck.

Chocolate banana ice cream to the rescue!

At JOI, we have figured out how to create smooth and creamy vegan "nice cream," without any dairy or processed dairy substitutes! In fact, unlike most ice cream recipes, you don't even need an ice cream maker. Our chocolate nice cream is a gluten-free, dairy-free, no-churn alternative that you will love!

Read on to learn about why you might want to consider foregoing processed, store-bought boxed almond milk (or other plant milk) and use a sustainable concentrate as an alternative in your vegan recipes instead.
Start With JOI
This frozen treat is vegan! How? It uses a combination of frozen bananas and JOI plant base to create a delicious, smooth vegan ice cream base that has the consistency of soft-serve!

The key to this sustainable recipe is our almond or cashew base. Each is a shelf-stable, environmentally conscious replacement for almond or cashew milk. All you need to do is mix the JOI plant base (made of 100% almonds or 100% cashews) with water, and you have a guilt-free, easy, clean plant milk in your hands! No more cartons of spoiled plant milk thrown in the trash - good-bye food waste, good-bye packaging waste!

We were inspired to create this recipe because we wanted to make it as easy as possible to both treat yourself and make a positive choice. If you care about your health and the environment, you deserve ice cream, too! There is no sacrifice required - nice cream made with JOI is a delicious anytime treat!


What Makes It Easy?
The best part about our vegan chocolate ice cream is how easy it is to make. Healthy ice cream does not need to be labor-intensive, and ours is simple to put together, so you can spend more time enjoying it!
No Ice Cream Machine Needed
You don't need any special equipment to watch these ingredients come together and transform into a smooth and creamy treat. All you need is a high-speed blender, which is a staple in most kitchens. If you don't have a blender, a food processor will work, too!

The only labor involved is scraping down the sides of your blender or food processor once or twice while blending. It's so simple that even kids can help. Making nice cream is a great summer activity to try with your family, and it's healthy enough to eat every day.
Minimal Prep
All you need to do to get started is slice and freeze the bananas. If you follow a vegan lifestyle, it's always a good idea to have some bananas sliced and in the freezer, ready to go! That's the only thing you need to do in advance before you can start to put the recipe together.

Once they are frozen, blend the frozen bananas with JOI almond or cashew base, water, sea salt, and store-bought chocolate hazelnut spread. Before you know it, you'll have what looks like soft-serve ice cream!


Use Store-Bought Ingredients
There's no need to slave over a food processor to create hazelnut spread from scratch! This easy recipe uses store-bought chocolate hazelnut spread, such as a vegan version of Nutella, which you might already have on hand. If you don't, you can easily substitute the spread for another nut butter, and incorporate cocoa powder into your blended ingredients.

If you'd rather make your chocolate hazelnut spread from scratch, that's an option, too. There are many recipes out there, so feel free to experiment.
No Churning Required
For this recipe, all you need to do is pulse in your mix-ins (we used toasted hazelnuts and chocolate chips), spread the mixture in a loaf pan, and freeze it! Other nice cream recipes require churning every few hours, but you don't need to break your back or set any complicated timers for this one.
It's Quick
Once you have combined your ingredients, added the chocolate hazelnut spread, swirled it all together, and topped it off, you're nearly done! The minimum freeze time for this recipe is a speedy two hours! If you put the recipe together before jumping in the pool, you'll have eight generous servings of chocolate hazelnut ice cream waiting for you by the time you dry off!
Make It Your Own
The best part about this chocolate nice cream is that you are not limited to the ingredients listed in our recipe. There are plenty of ways to customize and personalize your frozen treat to make it your own. Other than the bananas and JOI almond or cashew base, almost every ingredient can be customized to suit your unique tastes.
Switch up Your Mix-Ins and Toppings
In our recipe, we used chocolate chips and hazelnuts as our mix-ins. These ingredients are pulsed into the ice cream base to add crunch and texture. If you're the sort of person who digs the cookie dough chunks out of your ice cream and eats them first, you'll love the delicious texture of this nice cream!

The nice cream is also topped with slivered almonds, which are sprinkled on top and pressed into the soft ice cream base before freezing. The almonds compliment the mix-ins add an even crunchier, decadent texture.

If you're not a fan of chocolate, hazelnuts, or almonds, however, here are some mix-in or topping ideas that can help you make the recipe your own:


Shredded coconut
Chopped peanuts
Chopped pecans
Cacao nibs
Fresh berries
Cookie crumbs
Candy sprinkles

If you don't like crunch in your ice cream, you can also enjoy it without mix-ins or toppings. It's just as creamy and delicious. Make sure your bananas are nice and spotted brown and they will lend their own natural sweetness to the base.
Switch up Your Spread
This recipe is so versatile that even the chocolate hazelnut spread is optional! Consider switching it out for peanut butter, almond butter, cookie butter, or even light, fruity jam or preserves. If you want chocolate flavor without the nuts, you can add cocoa powder to taste.

A more daring home cook feeling indulgent might even try adding marshmallow fluff to create a homemade rocky road! The options are only limited by your own creativity.

Make the Recipe:  Best Chocolate Banana Ice Cream!
Are you ready to create the easiest and most customizable chocolate banana ice cream in the world? This simple recipe is asking to be customized and devoured by health (and environmentally conscious) people like you! You don't need to sacrifice your sweet tooth to ditch dairy, ditch cartons and do something good for the earth. 
Try Other Frozen Dessert Recipes Made With JOI
Ready to get cooking? Check out our other frozen dessert recipes on our website.  Try making the Key Lime Popsicles,  Blackberry Nice Cream, No-Churn Strawberry Ice Cream with Granola Chunks, Birthday Cake Milkshake, Coconut Fruit Popsicles or A Classic Vanilla Ice Cream….all vegan, dairy-free and #MadeWithJOI.  Tag us when you post your kitchen creations!