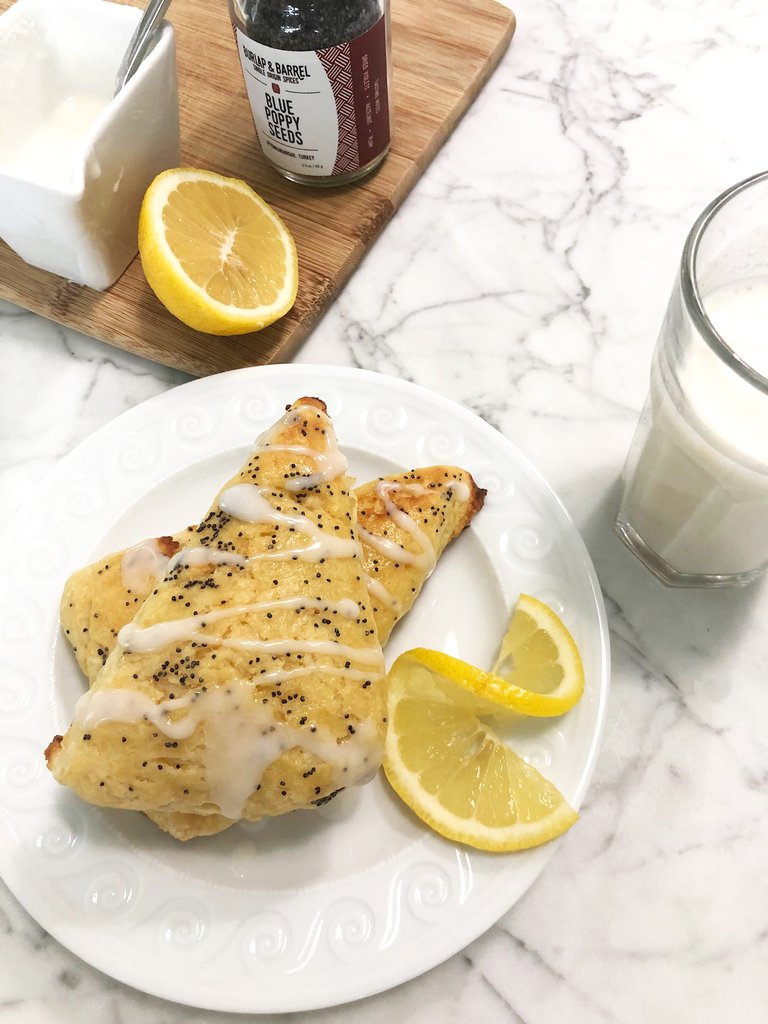 Glazed Lemon Poppy Scones (Dairy-Free)
Mar 24, 2022| By JOI team
< BACK
Mar 24, 2022| By JOI team
Glazed Lemon Poppy Scones (Dairy-Free)
Almond-Base |&nbspBreakfast |&nbspBrunch |&nbspDairy-Free |&nbspDessert |&nbspRecipe |&nbspSnack |&nbsp
Why Bake Today?
If there was ever a moment for procrastibaking, the COVID-19 quarantine was definitely it. That's when we spent a morning developing this healthy scone recipe while....uh....avoiding doing other work. Shhhh! Don't tattle.
Thankfully, those quarantine days are behind us. But that doesn't mean we aren't always looking for an excuse to bake! Maybe you're looking for something to brighten up a rainy Sunday morning stuck inside with the kiddos. Maybe you're looking for a healthy alternative to the coffee shop favorite that leaves you feeling a little too over-full. Or maybe you just need anything to distract you from the news.
No matter! These Glazed Lemon-Poppy Scones (adapted from Ballymaloe Cookery School's White Scones and made with JOI almond plant base) can help. Go preheat the oven, procrastinate away and enjOI!
Why Bake These Scones?
This recipe satisfies that unique desire for a crumbly, just-sweet-enough breakfast treat that only a scone can provide.
That classic flavor combination of lemon and poppy seed has stood the test of time for a reason: it's delicious! Nothing beats the zingy lemon flavor that fresh lemon and lemon zest impart. Top it with this easy lemon glaze, and it's a triple lemon delight.
Plus, they're dairy-free and can easily become a lower-sugar option by omitting the glaze.
The dough is forgiving - you are sure to be satisfied with the results.
Is This Recipe Easy?
In short, YES.
The great thing about this recipe is that it comes together quickly. From the time you're grabbing a large bowl to whisk together the flour and dry ingredients, patting the dough and popping the scones onto a prepared baking sheet, to the moment you're popping warm scones in your mouth, will be under half an hour!
Or better yet, making the scone dough the night before and freeze them on the baking sheet. In the morning, just bake off your lemon poppy seed scones. Make the easy glaze while they bake: simply in a small bowl combine powder sugar with lemon juice. Voila!
What to Serve with Scones?
Let's start with tea. Well, OK, or coffee! Whether you're serving scones for breakfast or a snack, you'll want a hot cuppa something to sip between bites.
Embellish your scone with butter (vegan if you choose), marmalade or clotted cream (or substitute some freshly whipped heavy cream instead) if you're taking dairy.
Bring out the berries (or other fruit) to munch alongside. Berries and lemon are another tried-and-true flavor combination.  Add a dollop of Greek yogurt or dairy-free yogurt for an extra punch of protein.
Making these a side for a hearty breakfast? Pretty much anything can grace your table: from scrambles to oven-roasted tomatoes or such. But we think you'll find that the scones will be the sweetheart of the event.
Ready for More Baking?
Now that you've experimented with JOI in baking, why not try some other delicious recipes?