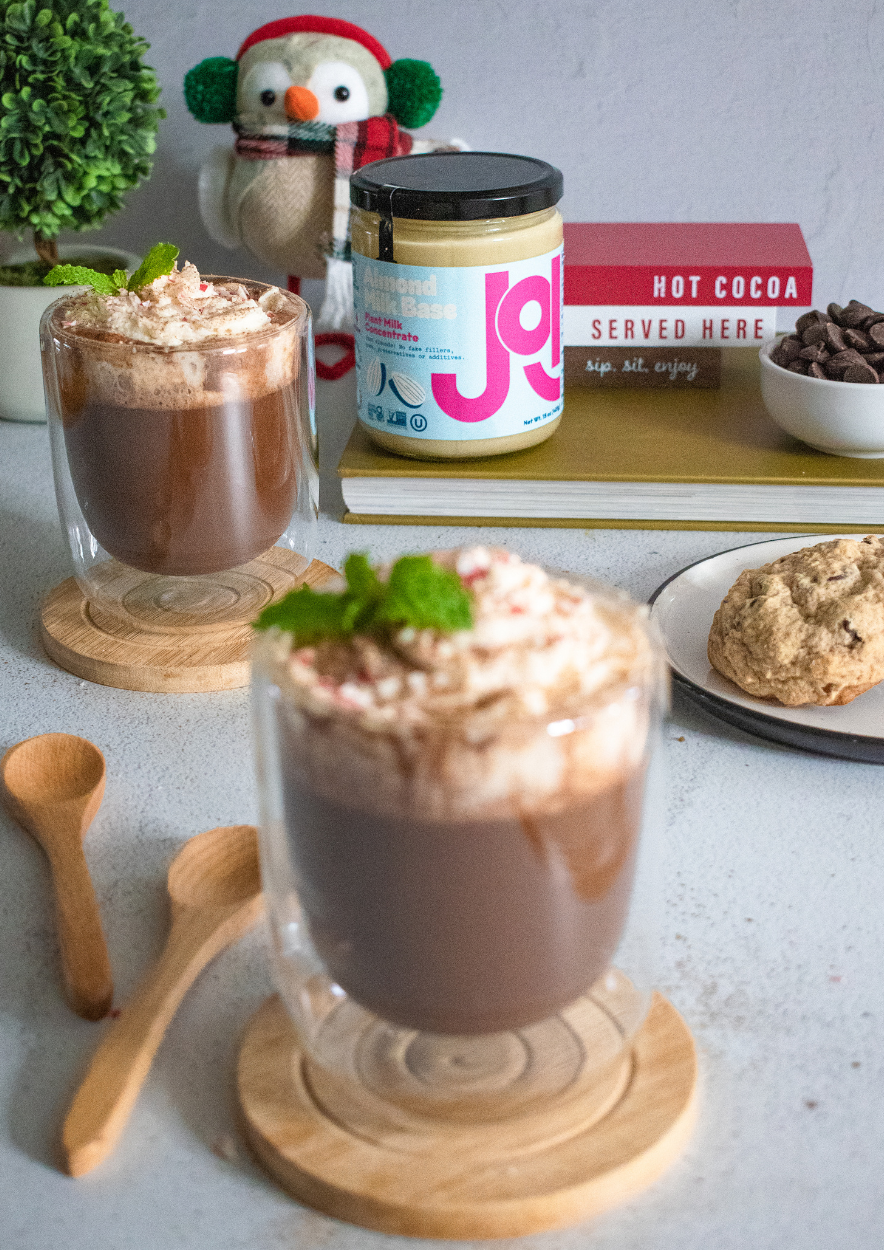 Peppermint Hot Chocolate (Vegan, Dairy-Free)
< BACK
Dec 9, 2022| By JOI team
Peppermint Hot Chocolate (Vegan, Dairy-Free)
Almond-Base |&nbspBeverage |&nbspBreakfast |&nbspCashew-Base |&nbspCreamer-Base |&nbspDairy-Free |&nbspHoliday |&nbspOat-Powder |&nbspRecipe |&nbspVegan |&nbspVegetarian |&nbsp
Nothing says the holidays like a mug of homemade peppermint hot chocolate. It's creamy, delicious, and the perfect way to warm up during the cold winter months. Plus, it's surprisingly easy to make! So grab your ingredients and let's get started with this dairy-free drink!
Why Drink Peppermint Hot Chocolate?
Peppermint hot chocolate is the perfect drink to indulge in during the winter. It's festive, comforting, and deliciously indulgent. Basically, everything you could want in a cozy winter beverage! Especially during the holiday season, when this yummy treat is sure to keep your spirits merry and bright!
This recipe is the perfect combination of creamy cocoa, rich chocolate and refreshing peppermint. 
What Ingredients are in Peppermint Hot Chocolate?
Perhaps the best part of this recipe is that you can make it at home with just a few simple ingredients.
The chocolate part: dark chocolate chips (we choose vegan) and Dutch-Processed cocoa powder
The flavorings: peppermint extract, vanilla extract, nutmeg, salt
The creamy component: hot water, JOI milk concentrate (almond, cashew, hemp or oat) - no heavy cream for us!  Make the milk ahead or blend all the ingredients together when making your cocoa. 
The sweet spot: monk fruit sweetener
The extras: plant-based whipped cream, mint leaves, peppermint candy cane stick or crushed candy cane bits (or perhaps holiday sprinkles?!), vegan marshmallows 
Is this Peppermint Hot Chocolate Recipe Easy?
With these easy-to-find ingredients and a few spare minutes, you'll be able to make your own special treat in no time!
Basically, while you organize some hot milk (medium heat and a saucepan!) gather the other ingredients.  Then whisk it all together, and you'll be enjoying hot cocoa at home.
Or skip the stovetop! Instead grab some hot water from the microwave (no judgement here), and throw all the ingredients into a blender.  Bonus:  extra foam!
How easy is that?
Tips for Crafting the Perfect Cup of Peppermint Hot Chocolate
Creating the perfect peppermint hot cocoa starts with high-quality cocoa powder. We use dutch-process cocoa, which has a more intense chocolatey flavor. Instead, you can use unsweetened 100% natural cocoa powder.  Whatever you choose, make sure to measure out your cacao powder correctly - too much can make your hot chocolate drink bitter. 
Did you know that dark chocolate is categorized by the percentage of pure cacao that it contains? For this recipe, 63% dark chocolate is used.  You can also use semi-sweet chocolate chips instead of dark chocolate chips.
But, attention!  Semi-sweet chips have a higher sugar content, so you may want to adjust the amount of sweetener accordingly. Start off with 1 Tablespoon monk fruit sweetener or any sweetener of your choice. Adjust sweetness according to preference.
Add the nutmeg and vanilla for an extra special flavor.
This hot chocolate has just a hint of peppermint. If you prefer a stronger peppermint flavor, increase the amount of peppermint extract you use to ½ teaspoon and garnish with more crushed peppermint candy!
For a creamier texture mix use more JOI when making your milk.
Don't skip the salty touch! When it comes to making a perfect batch of homemade hot chocolate, adding a small pinch of salt to balance out the sweetness of the chocolate is essential. Salt can help enhance all that sweetness and make all the flavors sing.
Make it extra festive! Top it with whipped cream or marshmallows, crushed peppermints and a fresh mint leaf!
Variations on this Recipe
Not keen on the peppermint flavor? You can always switch it up. Try doubling down on the vanilla extract instead. Or use just a 1/4 teaspoon of almond extract.
A hint of coffee powder would be delicious, and also serve to amp up the chocolate flavor.
We love adding other spices such as cinnamon, ginger or cardamom.
The best part about making your own peppermint hot chocolate is you can adjust the ingredients according to your preferences - so if you like yours super sweet or extra minty, you can customize your recipe however you like.
Sometimes we use peppermint flavored chlorophyl drops for a green-er looking hot chocolate. Now, how festive is that?
What Are Other Hot Winter Drinks?
Sound delicious or what?  Yep - peppermint hot chocolate is a classic winter drink that's easy to make and sure to please. As you can see, with a few simple ingredients, you can whip up a delicious batch of peppermint hot chocolate in no time. So don't wait until the holidays roll around — make this treat whenever the mood strikes you.
And don't stop there!  Check out more delicious hot drink recipes on our website.  We love this Gingerbread Latte, Pumpkin Date Creamer and Eggnog Creamer.  Plus, the Chai Latte is delicious if you love tea!
Tag your creations on social media with #madewithJOI and @addjoi.  We'd love to see what you come up with!