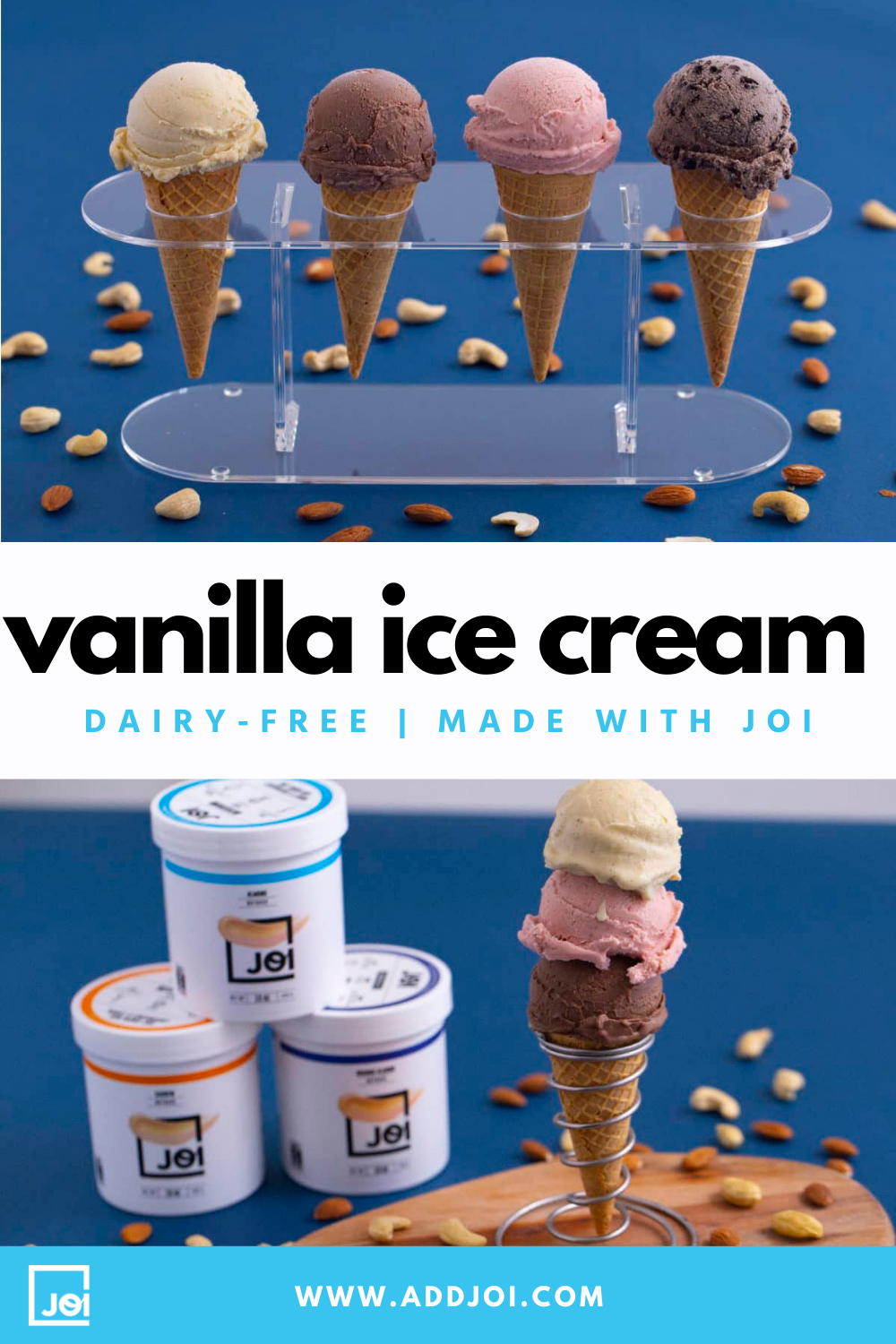 Dairy Free Vanilla Ice Cream
Jan 20, 2023| By JOI team
< BACK
Jan 20, 2023| By JOI team
Dairy Free Vanilla Ice Cream
Almond-Base |&nbspCashew-Base |&nbspCreamer-Base |&nbspDairy-Free |&nbspDessert |&nbspIce Cream |&nbspKeto |&nbspOat-Powder |&nbspRecipe |&nbspSugar-Free |&nbspVegan |&nbspVegetarian |&nbsp
The Best Dairy-Free Homemade Ice Cream
One of the hardest foods to give up when you can't eat dairy is ice cream. But fear no more!  There are lots of delicious ice cream recipes that are dairy-free and just as creamy and delicious.
The trick to making tasty dairy free ice cream is to find a product that mimics what the milk or cream does in traditional kinds of ice cream. 
That's where JOI comes in. Our plant bases are the perfect solution for making delicious ice cream that doesn't sacrifice anything when it comes to flavor and texture. 
Check out this recipe and be ready to be blown away. You'll never miss your dairy ice cream again. It's not a vegan ice cream recipe, but it can be modified if you desire.   
This classic vanilla recipe is the basic model of custard for all your homemade , dairy free ice cream flavor needs.
Chocolate, strawberry, cookies & cream, and peppermint—all can be made with either almond milk or cashew milk. And of course, you can always get creative and come up with your own flavors!
Dairy Free Ice Cream Ingredients
To make the vanilla base for a creamy ice cream base recipe, you only need four simple ingredients. They are as follows:
1/2 cup JOI cashew nut base
Vanilla extract
3 egg yolks
Sugar
When you create a recipe that contains only a few ingredients you can make something that is healthy and that you can feel good about eating and serving to your family.
There are no preservatives or chemicals in this homemade ice cream recipe. And it's gluten-free, too! The JOI nut base is a good alternative to coconut milk base because it's creamier and contains more nutrients. 
How to Make the Ice Cream Base
The most important part of this recipe is the ice cream base. This is what you'll use to create your finished product, but is also where you'll customize the ice cream to create your own flavors. 
You're going to love how easy this is. Start by making your cashew milk. Combine the cashew nut base with water and blend until smooth. Add the vanilla extract to taste and blend once more. 
Stir about a tablespoon or two of sugar into the egg yolks, whisking to combine. 
Then, slowly add the warm nut milk to the eggs, whisking continuously as you do so. Be careful not to add it too quickly or you'll cook the egg yolks and will have to start over. 
Reduce the mixture over heat until it creates a custard-like consistency. Chill it for several hours or overnight. Don't try to churn it when it's warm.
Once chilled, pour the mixture into an ice cream maker and churn for 12 to 15 minutes.
Chocolate Ice Cream Recipe
The above recipe creates vanilla ice cream, which is the perfect backdrop for creating flavors that blow your mind. Although, we love it as is too. 
Because this recipe contains so few ingredients, it's really easy to make it your own, which is great for lactose intolerant folks who don't have very many options on store shelves.
Chocolate is a favorite and it's as easy as adding cocoa powder to your nut base as you blend it with water and vanilla extract. Sprinkle in a few tablespoons and then follow the recipe as listed above.
Strawberry Ice Cream Recipe
You can also create a puree with fresh strawberries and sugar. Simply puree them together in a blender until smooth. Mix the puree into the custard before chilling to make fruity-tasting ice cream. 
Then, follow the directions as listed for the vanilla base and get ready for a mind-blowing and creamy blend of vanilla and strawberry that you're going to love. 
Cookies and Cream Ice Cream Recipe
If you love cookies, simply crush your favorites in a large zip-top bag, using a rolling pin, and add them to the ice cream mixture when you put it in the ice cream machine.
Cookie add-ins increase the time it takes to freeze the ice cream, so keep that in mind. 
Peppermint Ice Cream Recipe
Peppermint is the perfect flavor for the holidays. When you add the vanilla extract to the nut milk, drop in a bit of peppermint extract as well. When you churn the ice cream, mix in a cup or so of crushed peppermint candies.
This will give the ice cream a delightfully pleasing pink color and a flavor that can't be beat, especially at Christmas time. 
Additional Tips
If you need vegan ice cream, sub out the egg yolks for full-fat coconut milk. You'll still get a creamy texture but won't have any animal products in the ice cream. 
Try using other extracts, cookies, candies, or fruit to create new and delicious flavors anytime the mood strikes. Maple syrup is another tasty option. Add it when you churn the ice cream.
Why Use JOI?
The most obvious reason to use JOI nut base is that it tastes great. But that's not the only reason you're going to love it.
Unlike the almond milk, cashew milk, or rice milk that you can buy in stores, JOI products contain only one ingredient. 
And unlike coconut milk ice cream, our products contain nutrients that make them a great choice. Nuts are a good source of protein, healthy fats, magnesium, and potassium.
That means you're getting a dose of nutrition when you use JOI products to make ice cream, something you won't get from dairy-free options in supermarkets. 
Our products are shelf-stable and environmentally friendly. And you can make a lot more nut milk with our base than comes in the containers you can buy at the grocery store. 
Getting Started
Now that you know how creamy and delicious dairy free ice cream can be, you're probably excited to get started. There are so many tasty ways to customize this recipe.
And when you eat something healthy, you can feel good about taking care of yourself. 
Before you go pull out your ice cream machine and get started, check out some of our other free recipes. Try our key lime popsicles, vegan blackberry nice cream, or coconut fruit popsicles.