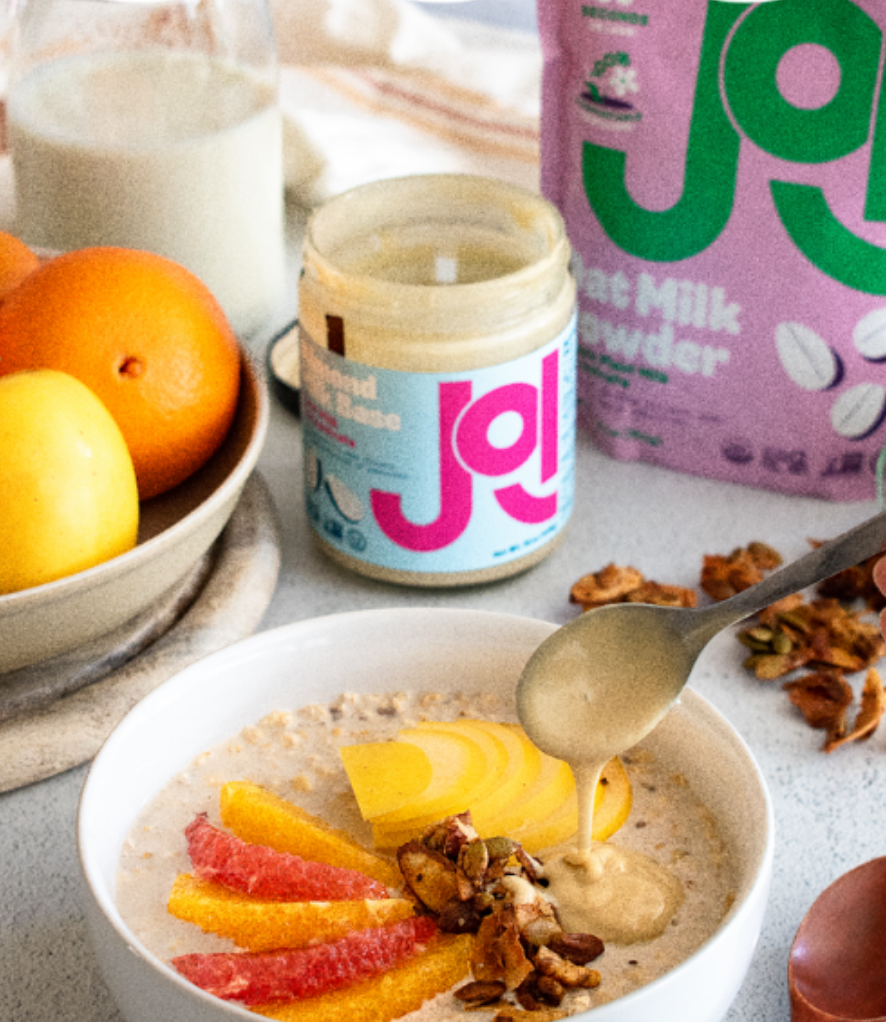 The Creamiest Apple Citrus Overnight Oats
Mar 10, 2022| By JOI team
< BACK
Mar 10, 2022| By JOI team
The Creamiest Apple Citrus Overnight Oats
Almond-Base |&nbspBreakfast |&nbspBrunch |&nbspCashew-Base |&nbspCreamer-Base |&nbspDairy-Free |&nbspDessert |&nbspKeto |&nbspLunch |&nbspOat-Powder |&nbspOatmeal |&nbspOvernight Oats |&nbspRecipe |&nbspSnack |&nbspSugar-Free |&nbspVegan |&nbspVegetarian |&nbsp
Here's our favorite winter overnight oats recipe with citrus, apple and cinnamon. It's a super easy meal to prepare in the evening, which allows us to get up and go on those busy mornings.  This recipe makes the most of the flavors of winter fruits…it's sunshine in a bowl, no matter what the weather like is outside!
What are Overnight Oats?  A New Way to Eat Oats!
When you're looking for a healthy breakfast option that's easy to make, delicious, and good for you, overnight oats are the way to go! 
Especially if you and yours are weary of the usual bowl of hot oatmeal.  You want to mix it up but keep the health benefits of oats.  And it would be great to not wash that sticky pot in the morning.
Enter "overnight oats"!  Simply mix together the base in advance, and allow time to work it's magic.  The oats soften and plump, the chia seeds do their thing, and the mixture is transformed into a thick and creamy delight.  Just pull it out of the fridge and top with your favorite fruit and seeds.
Want it warm?  Just zap it in the microwave before topping.
With a variety of flavors and combinations to choose from, there's sure to be an overnight oats recipe that's perfect for you.  We love this one because it showcases the best of winter produce in an unexpected combination:  apples and oranges.
Have extras?  Overnight oats is also a healthy snack option if you're looking for something to take with you that satisfies mid-morning or mid-afternoon.
The Benefits of Overnight Oats:  Time & Health
Preparing your oats the night before can save you time.  For many, that's the best part of this recipe: is how quick and easy it comes together in advance. All the work is done at night while we sleep. No boiling water, washing out pots or waiting for breakfast to be ready. Simply pull the jar out of the fridge and enjoy! A delicious and healthy meal doesn't get any easier than that.
And, there's a wealth of other health benefits of overnight oats to enjoy as well: 
Oats are a complex carbohydrate, meaning they release energy slowly throughout the morning and keep you feeling fuller longer. 

They're also a great source of fiber, which is essential for gut health and can help regulate digestion. 

If you enjoy a morning trip to the gym, oats are also a relatively good source of protein, which is essential for building muscle mass and repairing tissue.

Heart health, improved blood sugar control…the list of

benefits from oats

goes on and on.  

Plus, with the addition of fruit like apples and oranges, you're getting a dose of Vitamin C to boost your immune system and help fight off winter colds. 
So why not give our delicious apple and orange overnight oats recipe a try? We promise you won't be disappointed!
Use JOI Milk for a Creamier Texture, Still Dairy-Free
If you're looking to make your overnight oats even creamier, we recommend using milk made from JOI plant milk concentrates.  Because you make the milk, you can play with the ratio of JOI-to-water and make that milk as creamy as you like it!
Not only does it add a delicious, creamy texture, but JOI milks are also packed with fiber, healthy fats and protein depending which one you choose:  almond, cashew, hazelnut or oat.  What's your fancy? 
Plus, JOI milk is GMO free, gluten free, and dairy free, making it a great choice for those with dietary restrictions.
We love the rich and creamy texture that comes from using JOI Milk in the overnight oats. We know…you've probably been a fan of dairy milk for a long time, but there are reasons to experiment.  The rising cost of dairy products, combined with the added health benefits of moving away from dairy milk has everyone searching for plant-based alternatives.

Switching to JOI milk allows you to keep the rich and creamy flavor in your meals, but with the added nutritional benefits of not using animal products. 
JOI products are better for you and better for the planet!  It feels really good to be able to eat a more sustainable meal.
How To Finish It:  Toppings
Although it is fun to hunt through the crisper to decide which fruits to add to our bowl, we think you should try this unique combo while apples and oranges are at their peak!   Personally, we're suckers for anything apple and cinnamon (who isn't).  But adding oranges to the mix is pleasantly surprising! 
But don't stop there.  You can put just about anything on there, such as fruit (whatever you have and love, whether fresh or dried), nuts (go nuts!), seeds (sunflower, pepitas, chia, basil), chocolate (cacao nibs for crunch!), or even a dollop of more JOI creamy plant base! 
Whatever you decide, you can be sure that the rich flavor of JOI together with the oats will make an incredible base meal.
More Healthy Breakfast Ideas
There's nothing like starting your day with a nutritious breakfast. And when that breakfast is easy to make, all the better! 
If you enjoyed this recipe, try these delicious breakfast options: