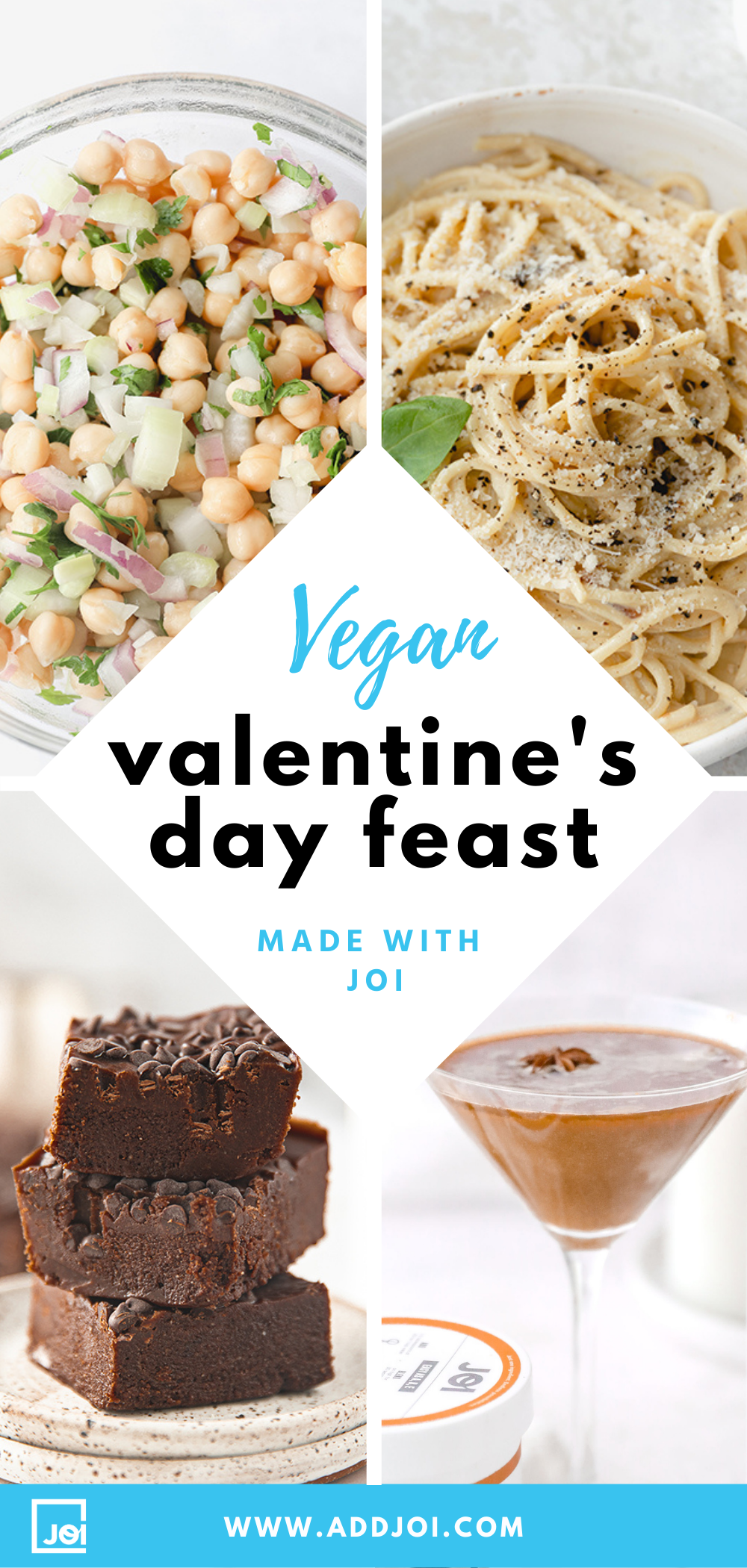 The Perfect Three Course Vegan Meal for Any Kind of Valentine's Day Celebration
Feb 12, 2021| By JOI team
< BACK
Feb 12, 2021| By JOI team
The Perfect Three Course Vegan Meal for Any Kind of Valentine's Day Celebration
Almond-Base |&nbspCashew-Base |&nbspCreamer-Base |&nbspDairy-Free |&nbspKeto |&nbspOat-Powder |&nbspRecipe |&nbspSugar-Free |&nbspVegan |&nbspVegetarian |&nbsp

Valentine's Day is kind of an all-or-nothing thing. It is undeniably the ultimate Hallmark holiday, and you're either asking for all the flowers and chocolates, or swallowing expletives every time you see a cheesy V-day themed jewelry commercial. But regardless of which camp you're in, we think Valentine's day is a pretty good excuse for a really outstanding meal--whether you're cozying up with your sweetie, hosting a whole Valentine's-eschewing crowd, or taking the night to shower yourself in love and adoration.
This year, we say skip the overpriced restaurant reservations and opt to eat in instead (it is the year of COVID, after all). We've created a vegan-friendly Valentine's trifecta that'll give fine dining a run for its money--put the savings towards a truly splurge-worthy bottle (or two) of bubbly. Bon appétit, mes amours!
Hearty, healthy, and just indulgent enough, this rustic salad is a perfect appeteaser to kick off your romantic dinner. JOI nutbase stands in for creamy stand-bys like mayo and sour cream. Combined with tangy mustard and crunchy celery, you get all the rich flavor without the allergen concerns.  


Ready to conjure up some classic Lady and the Tramp vibes? An Italian dinner favorite, Cacio e Pepe pasta translates to "cheese and pepper". By simply adding some nutritional yeast to your favorite JOI nut base, you can create a delicious vegan pasta sauce that tastes just like parmesan cheese for a delicious Valentines' main course.


All the decadence, none of the hassle. Made with cocoa powder, coconut oil, maple syrup, and the star--JOI nut base--this is a creamy, easy, and vegan-friendly take on classic fudge that's perfect for most romantic day of the year (or any day!). Did we mention chocolate is a known aphrodisiac? ;)


Yup, this is it. A Dirty Chai Martini FTW. We'll end it here. 

Want to add a course to your Valentine's feast? Check out our collection of vegan-friendly appetizers, dinner, and dessert recipes made with JOI!