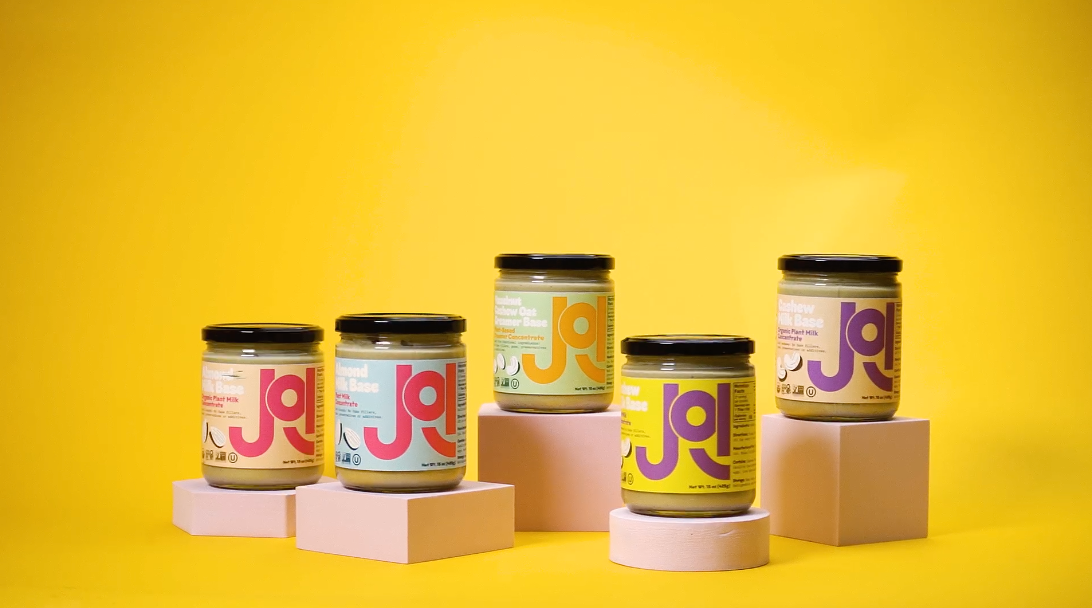 The Complete Guide to Plant Milk Concentrates
Jun 30, 2020| By JOI team
< BACK
Jun 30, 2020| By JOI team
The Complete Guide to Plant Milk Concentrates
Almond-Base |&nbspCashew-Base |&nbspCreamer-Base |&nbspOat-Powder |&nbspSustainability |&nbspTips+Tricks |&nbsp
Since JOI launched with our flagship Almond Plant Milk Concentrate in April 2019, there is a single question that comes up often: what exactly is a plant "base"? And that's a fair question when you introduce an entirely new product to the world and create an entirely new food category.  So, let's clear a few things up about JOI, our plant milk concentrates and why all of this matters.
It's always helpful to start with a good ol' definition right? Here's how we define a plant base:


PLANT BASE / plant bās  syn:  "concentrate"
1. A main or important element or ingredient that is derived from plants to which other things are added.
2. A plant-derived foundation, starting point, or main ingredient of something.

The upshot? If you think of JOI plant bases as purely a means to wholesome and nutrient-dense plant milk, it's time to think bigger. The true beauty of a base is that it's a starting point. And if you've got a good one (like JOI), it's a starting point that's full of flavor, depth, and nutrition to pump up any variety of recipes. Think of a cooking base or stock base; simple, versatile, and a super easy way to add A LOT of flavor to a lot of culinary endeavors. 
Keeping in mind what a soup concentrate is to soup, we spent more than 3 years in R&D to develop our proprietary plant milk concentrates. And during that time, we gained the expertise necessary to perfect the process and create consistent, high-quality, and nutrient-dense clean-ingredient bases made from nuts, seeds, and grains. Now, we're on a mission to make sure every one of our customers knows how to make the most of each jar of incredibly versatile JOI.

Read on to learn how you can add JOI not only for your alternative milks and smoothies, but to all your favorite vegan baked goods, dairy-free sauces, and plant-based recipes.

Plant Base 101: The Production Process
Our process is what sets JOI apart—it's the difference between our plant bases and other plant-based products. It may sound subtle, but trust us, that one consonant and lonely hyphen make a big impact.
Most important? Our flagship plant bases are derived from a single ingredient, intended to provide a base to let your culinary imagination run wild. Other plant-based products, including packaged plant milks and nut butters, are typically derived from multiple ingredients to create a single, less versatile, ready-to-use product. 
Creamy Pastes
Here's where the JOI creamy concentrates process really gets cool—our patent-pending cold milling approach allows us to create plant concentrates from different ingredients, such as almonds, cashews, hemp seeds and more. With this process, we keep our source ingredient as close to raw as possible while still meeting all FDA food safety regulations plus unlocking the full nutritional benefits that sometimes only come with cooking. Steam pasteurization removes nut skins, activates nutrient-packed enzymes, and when combined with cold milling, helps us ensure a smooth, creamy texture. 
So far, in the creamy category, we've introduced almond and cashew bases (conventional and USDA organic) as well as a hemp concentrate (organic). 
Powders
In the powder category, we've launched an instant oat milk base that we think is arguably the most sustainable - and delicious - plant milk on the planet (hold the rapeseed oil, please!).  We also developed a sweetened oat milk creamer made with minimal ingredients, designed to taste and perform great in coffee and tea. 
We're also hard at work on developing new nut, grain and seed concentrates to fit even more dietary and taste preferences.
JOI Concentrates vs. "Butters" 
This also leads us to one of our favorite questions--how are creamy JOI plant bases different from nut and seed butters? In short, plant butters are ground (and often roasted), not cold milled. This means no enzyme release, lots more opportunity for grittiness, a generally thinner texture, and way less efficiency if blending up plant milk is your ultimate goal.  


"The advantage of an unroasted base like JOI that's still smooth and creamy is the neutral flavor profile, endless use of applications, and ultimate nutrition value. The smoother and creamier base ensures convenience when trying to break it down into a milk, sauce, dip or whatever your use case is. And a neutral flavor profile is crucial so that no matter what other ingredients you mix it with, the base complements it instead of overpowers it."  

Dave Korstad, JOI Co-Founder and Head of Product
Health Benefits of Plant Bases
Did you catch what we said about JOI standing for "Just One Ingredient"? Yeah, that means we're all about supporting your healthy lifestyle. With whole nuts, seeds or grains making up the sum total of our ingredient lists in 6 of 7 of our products, JOI is a perfect fit for vegetarian, vegan, gluten-free, keto, whole food and paleo diets (plus those of you who prefer a more flexible, healthy-ish approach—we're not here to judge).
Being derived from a single ingredient means JOI plant bases are a whole food, and impart the same nutritional benefits of the whole ingredients they're sourced from. This is important because our core ingredients are nutrient powerhouses. Almonds and cashews are packed with vitamins, minerals, heart-healthy fats, and high-quality energy-boosting calories. If you're still afraid of fat and calories, it's time to debunk the diet myths—whole foods are key to health.  
Our creamer base, which is crafted from minimal ingredients (oats, MCT and avocado oils, tapioca fiber, fruit pectin and calcium and organic cane sugar), was thoughtfully designed to pair perfectly with coffee and taste rich and creamy, which is why each of those ingredients was carefully selected.  


"Plant bases provide a wholesome source of vitamins, minerals, healthy fats and protein, which not only support a healthy diet but also provide variety and depth of flavor to your meals!"

Carolina Schneider, MS, RD
Plant Bases: The Ultimate Versatile Cooking and Baking Ingredient
Let us reiterate—plant bases are designed for so much more than plant-based milk. 
JOI's smooth and creamy plant bases are the perfect starting point for all kinds of sweet and savory cooking and baking - check out 100s of recipes on our blog. Easily whip up healthy and filling smoothies, substitute JOI plant milk for cow's milk at a 1:1 ratio in most baking recipes, use JOI as a base for creamy vegan sauces and dips, or create healthier takes on your favorite indulgences (including vegan chocolate frosting and 'nice' cream). 
All that being said, JOI plant bases will help you whip up some really delicious, really healthy, really customizable plant milk real quick. With our bases, you have total control over your plant milk. Adjust the JOI-to-water ratio to make it creamier or lighter; sweeten the deal with date syrup, maple syrup, agave, or the sweetener of your choice (you can even make vegan cereal milk); or blend with coconut water for a subtly nuttier flavor. It's your diet and your plant milk—make it what you want. 
 
"JOI is the Swiss army knife your kitchen always wanted but has never had. The applications are endless from milk to sauces and baking, and both professional and home chefs are realizing its a must-have product in their pantry."

Tony Jimenez, Co-Founder and Chief of Finance
Plant Bases and Sustainability
We've only got one planet—at JOI, we're committed to treating it, and all the humans living on it, well. From Day One, sustainability has been a primary goal for us. We started with a mission to create natural, healthier plant milk with less waste than conventional grocery store options. That mission has grown and evolved into a quest for sustainability in everything we do, from production to packaging.  
We're pretty happy with what we've achieved so far. JOI plant bases are available via efficient ongoing subscriptions and are shelf stable for up to 18 months (18 months almond; 12 months cashew; 9 months oat), helping our commercial and consumer customers reduce waste by blending up only as much plant-based milk as they need, when they need it.

Clever packaging also helps eliminate waste. Our thoughtfully designed glass jars minimize material use so one jar of JOI saves seven cartons from landfills. Glass is both food safe and dishwasher safe, which means our jars can be reused multiple life cycles by consumers, and can be recycled through easily-accessible city programs. Our new oat milk powder is packaged in a durable pouch made from post-consumer recycled material (also known as PCR); a material that is made from the items that consumers recycle every day, like aluminum, cardboard boxes, paper, and plastic bottles. This allows us to reduce our carbon footprint, lessen our impact on landfills, and meet our overall sustainability goals, without relying on our customers to properly recycle or compost the package after use.
Plus, by providing a cost-effective option for folks at-home and within businesses to make the switch to plant milk from dairy milk helps reduce reliance on commercial dairy farms and in turn decrease the effects of their environmentally taxing practices. Not to mention the boost to improving your carbon footprint by adding water at home rather than paying for 98% water-based plant milk "beverages" to be shipped to your grocery store in refrigerated trucks! 
"JOI was founded upon the mission to reduce both packaging and food waste within the food industry. With such an increasingly popular and sought-after kitchen staple such as a plant-based dairy milk alternative, just think of how much impact we could have if every household used JOI!"

Izzy Shu, Co-Founder and Chief of Brand

Ready to take control of your healthy lifestyle? JOI plant bases are a go-to option for versatile, sustainable, and delicious plant-based milk and vegan cooking and baking. Give our almond, organic almond, cashew, organic cashew, oat creamer and oat plant bases a try today, and we're pretty sure you'll be hooked forever.