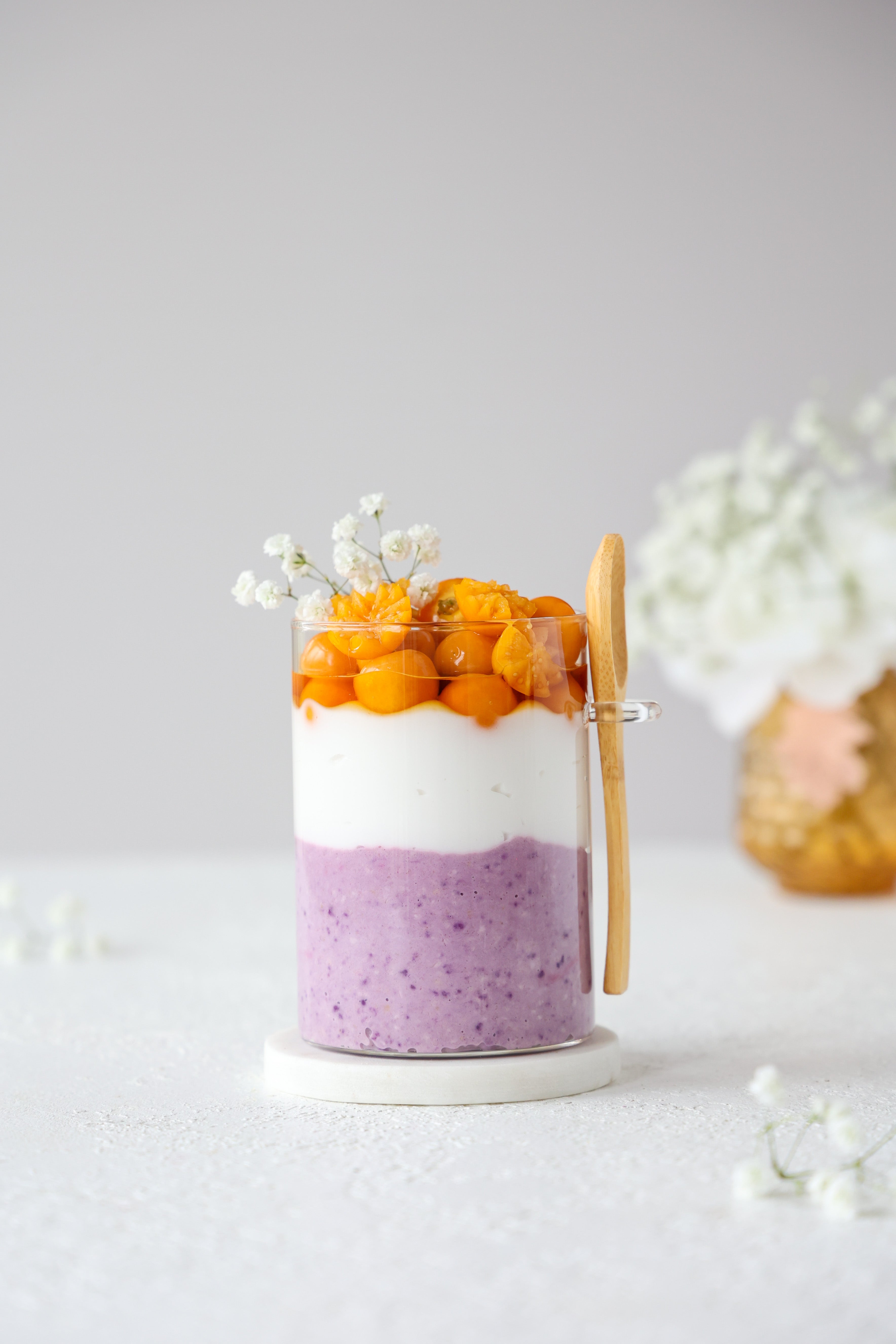 Easy Blueberry Overnight Oats (Vegan)
< BACK
Feb 2, 2023| By JOI team
Easy Blueberry Overnight Oats (Vegan)
Almond-Base |&nbspBreakfast |&nbspBrunch |&nbspCashew-Base |&nbspOat-Powder |&nbspOvernight Oats |&nbsp
Overnight oats are a quick and easy breakfast option. They can be made in advance and enjoyed on busy mornings. This recipe for blueberry overnight oats is gluten-free and dairy-free. The addition of JOI cashew milk concentrate and dried blueberry powder makes this recipe a creamy and colorful way to start your day.
Tips for Making Blueberry Overnight Oats
Making this recipe could not be easier. Just stir and sit. Here are a few tips to think about as you throw together this delicious breakfast:
If you prefer a creamier texture, add more JOI!
If you prefer to make this sweet, stir maple syrup, date syrup or honey into the oat mixture.
In the morning, give the oats a good stir. If they seem too thick, you can add a little more milk to thin them out.
If you don't have dried blueberry powder, you can substitute frozen blueberries, fresh blueberries or dried elderberry or raspberry powder.
This recipe is also great for meal prep, you can make a big batch and keep them in the fridge for the week. You can also switch up the recipe by adding other fruits, nuts, or seeds of your choice.
Use rolled oats. Steel cut oats and quick oats won't work in this recipe.
Upcycle old mason jars! Use them to store your overnight oats.
Why Use JOI in this Recipe?
Using JOI cashew milk concentrate in this recipe for blueberry overnight oats has many benefits. Especially compared with using processed grocery-bought cartons of plant milk.
JOI is made with just one ingredient. (Or a few simple whole ingredients when it comes to our hazelnut creamer.) It's free from additives and preservatives or gums and sugars and oils.
In addition, JOI is also a more sustainable choice. One jar of JOI yields 7 quarts of milk! Think of all the non-recyclable cartons saved from the landfill. Plus, because you add the water, you're decreasing your carbon footprint.
Plus, you don't even need to have milk handy in advance.  Just stir in JOI plus water and voila!
Overall, using JOI cashew base in this recipe for blueberry overnight oats not only adds delicious taste and nutrition but also better for the environment. It is an easy and healthy way to add a boost of flavor and nutrition to your breakfast routine.
How Can I Customize this Recipe for Blueberry Overnight Oats?
This recipe for blueberry overnight oats is versatile and can be customized to suit your taste and dietary needs.
For example, if you prefer a more complex taste, you can add a little cinnamon and vanilla extract or almond extract to the mixture.
You can also switch up the recipe by adding other fruits, nuts, or seeds to the oat mixture. Here we used golden berries (hello, anti-oxidants and anti-inflammatories!) We like chopped apples (fresh or cooked), pear, kiwi, frozen berries, hemp or chia seeds.
For an extra boost of protein, you can add a scoop of a clean-label protein powder to the oats mixture before refrigerating.
And lastly, you can top your oats with your favorite toppings! If you don't like the strong taste of coconut milk, use a different type of yogurt. Or skip the yogurt altogether.
Any JOI milk concentrate will work well for this recipe. Almond milk or oat milk are great substitutes for the cashew.
Have fun experimenting with different ingredients and feel free to make this recipe your own!
What Other Overnight Oats Recipes Can I Make?
If you love this overnight oats recipe and are looking for more delicious and nutritious breakfast ideas, head to the JOI recipe blog!
There we've got a rainbow of overnight oats recipes. From classic flavors like chocolate, to more unique ones like apple-citrus, and turmeric. These recipes are all easy to make, customizable, and packed with nutrition.
If you're looking for something a little different, why not try making a chia pudding? Chia pudding is another quick and easy breakfast option that can be made ahead of time and stored in the refrigerator. Obsessed with blueberries?  Try the blueberry compote chia pudding.  For fall vibes, make the pumpkin pie chia pudding.
For new and delicious breakfast ideas, head to the JOI recipe blog. Whether you're a fan of sweet and fruity or rich and chocolatey, there's something for everyone.