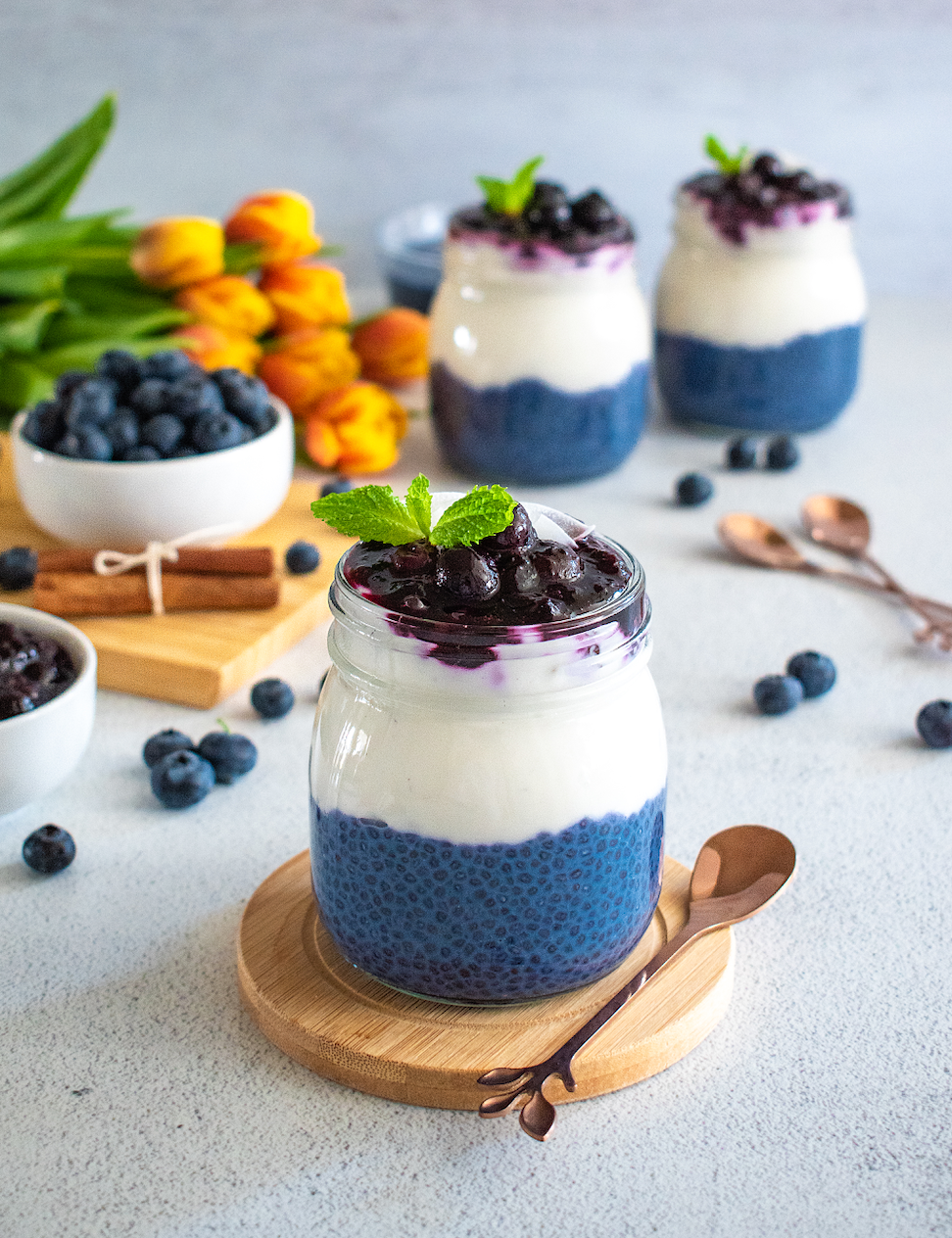 Easy Chia Pudding with Blueberry Compote (Vegan, Dairy-Free)
May 21, 2022| By JOI team
< BACK
May 21, 2022| By JOI team
Easy Chia Pudding with Blueberry Compote (Vegan, Dairy-Free)
Almond-Base |&nbspBreakfast |&nbspCashew-Base |&nbspDairy-Free |&nbspDessert |&nbspGluten-free |&nbspOat-Powder |&nbspRecipe |&nbspSnack |&nbspVegan |&nbspVegetarian |&nbsp
All hail the blueberry! It's one of summer's juiciest treats and a naturally occurring blue food. How great is that? Well, it's even better when you compote the fruit and serve it on top of fiber-ful & anti-oxidant rich chia pudding. Breakfast, snack or dessert? We'll have all three, please. Use this recipe as a baseline for launching a love affair with chia pudding topped with fruit compote.
How do you make chia pudding?
Making chia pudding is much easier than making traditional pudding.  Even if you were to "shortcut" making traditional pudding with a boxed pudding mix, chia pudding still wins the day in ease of preparation.  
All you do is combine your favorite milk ... call us biased but we vote for almond milk, cashew milk or oat milk ... with the right amount of chia seeds.  Mix and let the magic happen! 
In a short time, the chia seeds will plump up, absorbing most of the milk and creating a thick "pudding" mixture.
That's it!   From there, the possibilities are endless.  Take your basic recipe and jazz it up.  Add a bit of salt to the base, or sweeteners, vanilla extract or superfood powders.  The topping possibilities are endless.
What is "compote" and how do you make it?
For this recipe, we are topping a basic vanilla chia pudding with blueberry compote.  But what is compote, exactly? 
Compote is fruit that is simply cooked, typically with some sugar.  Think of a simple, homemade jam, but chunkier and more loose.
So if you've got some ripe fruit (we chose blueberries for this recipe), sugar and a small saucepan, you're minutes away from a batch of compote.  Gently heat the mixture until the fruit breaks down a bit, so that the naturally occurring pectin in the fruit is released.  The pectin will help thicken and "set" the compote.  Remove from heat and let the mixture gel-up a bit.  Serve warm or pop it in the fridge to chill.
This simple application of "compoting" works well with stone fruits, apples and pears and berries.  Stay away from trying to compote fruits that are very high in water, such as melon or pineapple.  Some fruits may take longer to cook, release their pectin and set.
You can also enhance the flavor of the compote with a few simple ingredients.  Lemon zest and a squeeze of lemon juice bring out the flavor of blueberries and raspberries.  Cinnamon and ginger add depth to apple and pear compote.  And a pinch of sea salt can make that fruit really pop with taste.
Top your chia pudding with a rainbow of compotes all year long, depending what is in season!
Easy, Gluten-Free and Vegan
This recipe is easy.  Just pop the chia pudding base in a mason jar and let time do the work.  Layer in compote or other toppings for a beautiful, impressive presentation.  Plus, this recipe is also gluten-free (so long as you are using gluten-free oat milk!).  And vegan, for those on the ditch-dairy train.
If you use JOI almond milk, cashew milk or oat milk, you can also keep the flavor base pretty neutral, or take it in any flavor direction you like.  Unlike other plant milks, like coconut milk, which have a strong flavor profile, JOI milks are clean, nutritious and delicious.  Replace that full fat can of coconut milk on your pantry shelf with a jar of JOI instead!  It's the secret weapon of your kitchen.
Endless Variations on this Blue Recipe!
Start with blue spirulina powder in the base, topped with blueberry compote.  Because who can resist blue on blue?  And then, go from there!
This recipe can be taken in so many different directions.  Here are some ideas, but let your imagination, your favorite color or tastebuds, guide your adventure:
What are some other good healthy breakfast ideas?
Hooked on chia pudding?  Try these other variations:
How about a new spin on chia pudding?  You're ready for "overnight oats."  Take your basic chia pudding recipe, but add oats and let sit overnight.  Here are a few recipes:
Your secret ingredient to nailing every smoothie bowl?  Chia seeds, of course.  Just add a tablespoon or two to make sure they are extra thick!
Make the Recipe!
[[ recipeID=recipe-9l3eo09ps, title=Chia Pudding with Blueberry Compote ]]