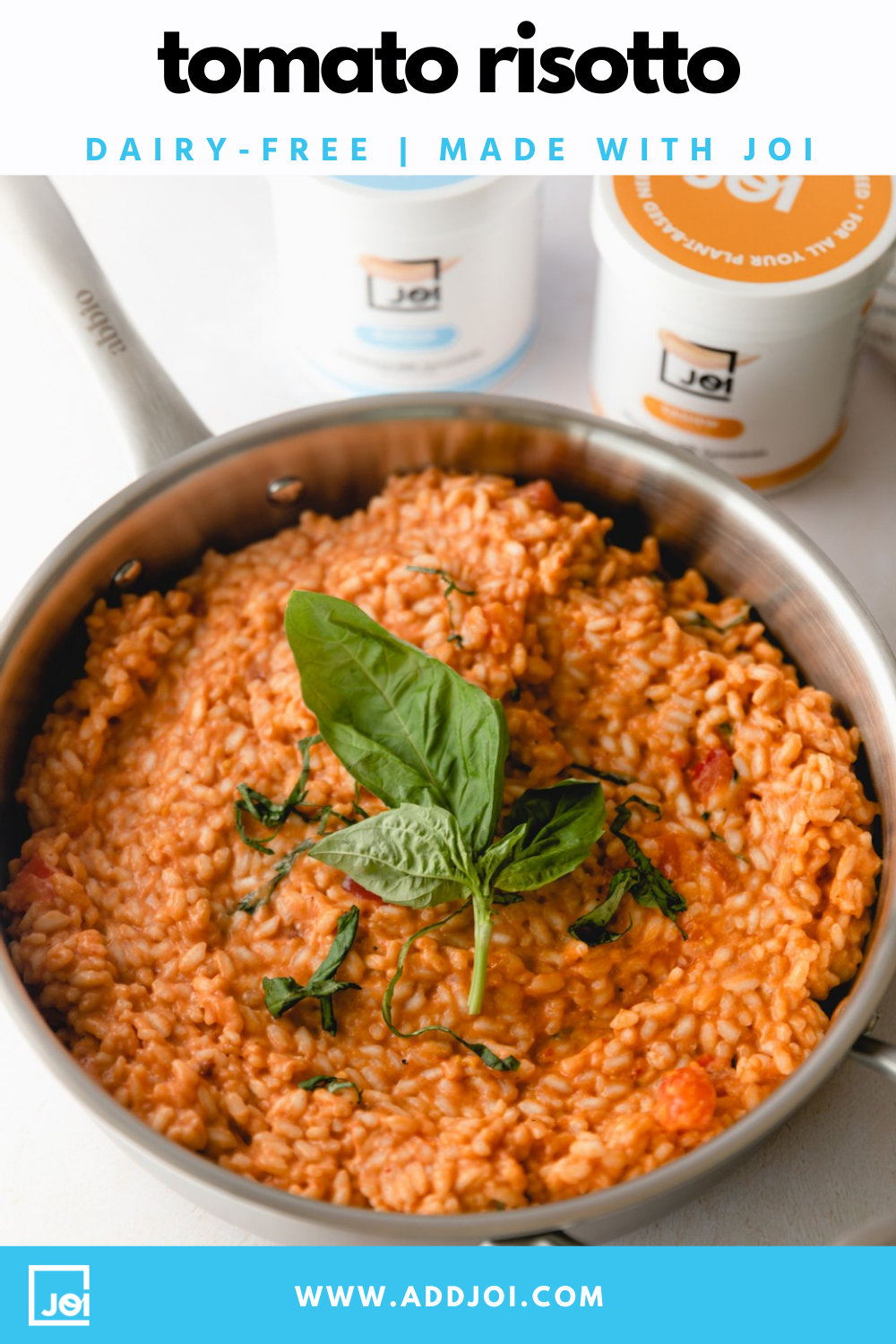 How to Make a Healthy Tomato Risotto Recipe
< BACK
Sep 3, 2021| By JOI team
How to Make a Healthy Tomato Risotto Recipe
Almond-Base |&nbspCashew-Base |&nbspCreamer-Base |&nbspDairy-Free |&nbspKeto |&nbspOat-Powder |&nbspRecipe |&nbspSugar-Free |&nbspVegan |&nbspVegetarian |&nbsp
How to Make a Healthy Tomato Risotto Recipe?
Risotto is one of the most popular rice dishes in Italian cuisine.  And, despite it's "difficult" reputation, this creamy delicacy can be easy to cook.  So we're serving up a healthier recipe that ditches dairy and incorporates tomatoes and basil to let those authentic Italian flavors shine. The one-pot meal can be your utterly delicious midweek fix or a weekend showstopper!

The Healthiest Ingredients of Our Recipe
We've all heard the risotto "rumors".  It's too rich.  Too unhealthy.  Too difficult to make it right.  Too time consuming!  We're here to set the record straight with this healthier recipe, which boils down to three essential ingredients.
Arborio Rice
Arborio rice is traditionally used for making risotto. This variety of rice, which comes from Italy, is higher in starch compared with other rice varietals.  That starch is responsible for the "baseline" creamy texture of a risotto. 
Buy a bag at your local grocery store or online!  It's worth it.
JOI – Almond or Cashew Base
Cream, butter, cheese.  And more parmesan cheese on top.  Delicious, at times, but the #ditchdairy movement is real for a reason. 
But how to achieve the same creamy, buttery result without using dairy?
Try JOI Almond or Cashew base!  It is the perfect alternative to heavy cream or butter. Importantly, JOI plant bases taste fantastic in most any dish where you are looking to eliminate dairy. 
Plus, JOI plant bases have a long shelf life.  No need to run out to the store for extra ingredients when JOI is already sitting on your pantry shelf.
Tomato
Tomatoes add delicious flavor AND veggie-power to this dish.  Did you know that tomatoes are high in Vitamin C?!  
Bonus:  Basil
OK, OK, we said three ingredients, but the basil is worth mentioning too.  It adds an extra punch of flavor in there that we can't ignore!
Give the Recipe a "Twist"
Feeling adventuresome?  Tired of tomato-basil?  Want to cook seasonally? Risottos can take in a myriad of flavors. Why not experiment with slightly different flavors and nutrient profiles. Here are a few ideas if you want to substitute the tomato-basil combination.
The Verde Risotto
Mix in some pesto at the end of the recipe, and you will be pleasantly surprised with the robust taste.  
Or toss in a handful of spinach or arugula for the same green effect!  (Just add in some garlic for extra flavor).
Mushroom Risotto
Cook in a few shitake, cremini, portobello or porcini mushrooms and let these fungi shine in their creamy bed of rice. 
Mushrooms are also a worthwhile addition to the "original" recipe.
Spring Vegetable Risotto
Peas and asparagus in season?  Make this risotto recipe!


The Nutty Risotto
Walnuts are a perfect garnish for risottos. They give a nice crunch to the otherwise buttery texture of the dish.  And they're good for you! Make sure to add chopped walnuts right before serving the risotto. 
Tomato Risotto with Garlic Crumbs
The simplest yet the most flavorful addition to our creamy risotto recipe is the garlic garnish. Finish off the creamy risotto with some crispy garlic crumbs. Add some lemon zest to balance out the flavors.
Three Perfect Salads to Go with Your Risotto
Risotto is all about creaminess and comfort. Try these salads alongside to brighten and complement the meal.
The Spring Green Salad:

 

Enjoy the goodness of fresh vegetables seasoned with an orange sesame dressing. 
Broccoli Slaw: An Asian-inspired recipe that puts together all your favorite veggies. Toss in some fried peanuts for that extra crunch.
Kale-Cranberry Salad with Poppy Seed Dressing:

 

The filling and fast chickpea salad take no more than 10 minutes of prep time. Try the healthy, dairy-free version of the salad with natural plant products for JOI.
Time to Cook the Recipe!
Risotto demands no special equipment, no extravagant ingredients, and no professional techniques. It takes a simple pan, a wooden spoon, and a little patience (about 30 minutes) to churn out the creamiest healthy risotto.
So let's get to it...
Tomato-Basil Risotto Recipe
*Note:  Replace one cup of broth with one cup of white wine instead to vary the flavor.