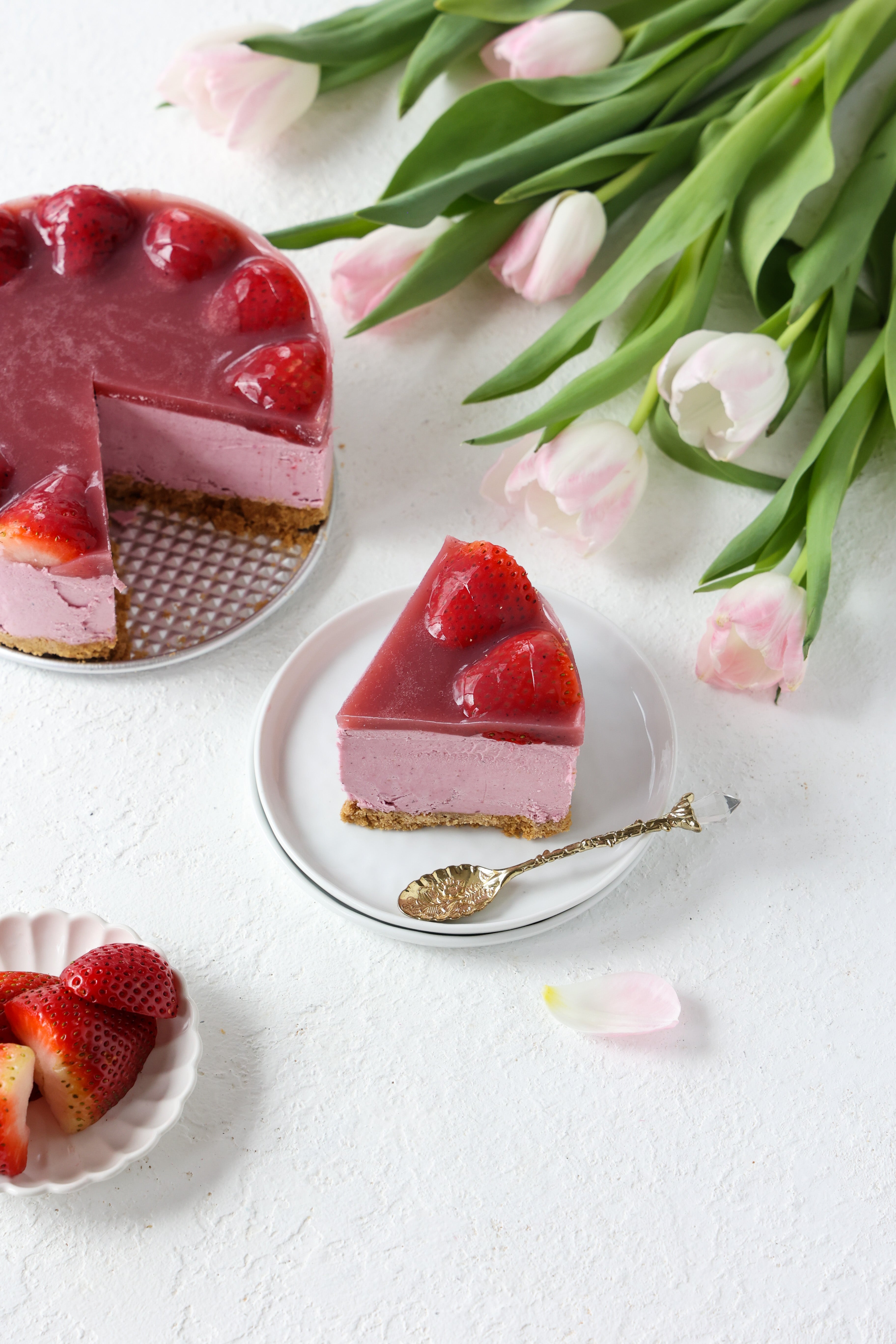 Vegan Strawberry Cheesecake (Gluten-Free)
< BACK
Apr 6, 2023| By JOI team
Vegan Strawberry Cheesecake (Gluten-Free)
Looking for a delicious, fruity cheesecake that happens to be dairy-free and gluten-free?! Bingo: this vegan strawberry cheesecake recipe is here to save the day...and your taste buds. Whether you're hosting a party or just treating yourself to something sweet, this easy vegan strawberry cheesecake is sure to delight. So what are you waiting for? Let's get started!
Where's the "Cheese" in this "Cheese"cake?
One of the key ingredients in a classic cheesecake recipe is cream cheese.
However, for those following a dairy-free diet, traditional cream cheese is not an option. That's where JOI Cashew Milk Concentrate comes in handy! By using JOI together with some vegan cream cheese, this recipe becomes dairy-free without compromising on taste or texture.
It's made from only one ingredient - 100% pure nuts - and is free from added sugars, preservatives, and artificial flavors. Plus, it's shelf-stable, which means it won't go bad as quickly as regular nut milk, and it's easy to use as you can mix it with water to create the desired consistency.
In this vegan strawberry cheesecake recipe, JOI Cashew Concentrate adds a creamy texture to the cheesecake filling that's impossible to resist. And since JOI is shelf-stable, it's a convenient pantry staple for all your dairy-free baking needs.  
JOI's cashew concentrate is rich, creamy, and can be used in a variety of recipes, making it a versatile and essential ingredient for anyone with dietary restrictions. Good-bye sour cream, eggs and dairy cheese...hello, JOI!
No cashew?  No problem.  Use JOI almond milk concentrate instead!
Equipment You'll Need
To make this recipe, you'll need a few pieces of basic kitchen equipment.
Use your food processor or blender to pulse graham crackers for the crust and to make the strawberry puree.
To make the cheesecake filling, you'll need a medium-sized bowl and a hand-held mixer (or strong muscles and a whisk!) to mix the ingredients.
Additionally, you'll need parchment paper to line the pan, and a saucepan to heat the strawberry purée mixture.
You'll also need a small pan, either 4x4 or 6x6, to press the crust into and set aside.
How about Making Individual Cheesecakes Instead?
If you don't have a small pan, why not use a cupcake tin? If you are using a standard cupcake tin with 12 cups, you can make approximately 12 mini cheesecakes from this recipe.
Simply press the crust mixture into the bottom of each cupcake liner, then pour the cheesecake filling over the crust. Freeze for 2 hours and decorate with fresh strawberries before serving.
This is a great option if you want to make individual portions of this delicious no-bake strawberry cheesecake to share with friends and family. Plus, it's perfect for parties or gatherings where you want to offer a variety of dessert options in smaller portions.
Customizations & Substitutions You Can Make
One of the great things about this cheesecake recipe is that it's easily customizable to your taste preferences and dietary needs.
If you don't have strawberry powder, you can omit it from the recipe without affecting the overall taste or texture. Although it adds a bit of a strawberry flavor boost, the primary reason to include the powder is to amp up the vibrant color of the dessert.
You can also substitute refined coconut oil for the vegan butter in the crust recipe.
As for the crust, use your favorite gluten-free cracker or cookie.  Or, if you eat gluten, just use your favorite graham cracker or other neutral cookie for the crust.
Not to mention the possibilities when it comes to flavors!
Substitute the strawberry for your favorite fruit, or whatever is in season.  Mango, peach, raspberry all sound great to us.
Or go for a classic New York style cheesecake and leave out the fruit entirely.  Add a splash of vanilla extract instead.
Don't be afraid to experiment and make this recipe your own!
When to Serve this Recipe
This No-Bake Strawberry Cheesecake is perfect to serve at any occasion, whether it's a birthday party, a holiday gathering, or a summer BBQ.
It's a refreshing and light dessert that will satisfy your sweet tooth without weighing you down. Plus, it's a great way to showcase the sweetness and freshness of seasonal strawberries.
Serve it up as the grand finale to a dinner party or potluck, or whip it up for a mid-week treat that'll satisfy your sweet tooth.
Cheesecake for breakfast, anyone?! No judgment here!
Feeling extra fancy?  Go the extra mile and make the Strawberry Jelly Layer.  Just mix 1 cup of strawberry purée with 1 Tablespoon of Agar Agar powder. Bring to a boil and pour on top of the frozen cheesecake. It will harden pretty fast, and looks professional.
Other Dessert Recipes with JOI
So you're convinced: JOI is a great, versatile ingredient option for desserts.
Why not try your hand at a few other dessert recipes made with JOI? JOI plant milk concentrate is a versatile ingredient that can be used in many different ways, so be sure to experiment and have fun with it!
Here are a few ideas to get you started:
Hazelnut "nice" cream (lots more ice cream recipes on the blog!)
If you're a fan of dairy-free baking, then JOI plant milk concentrate is a must-have ingredient in your pantry. The possibilities are endless!