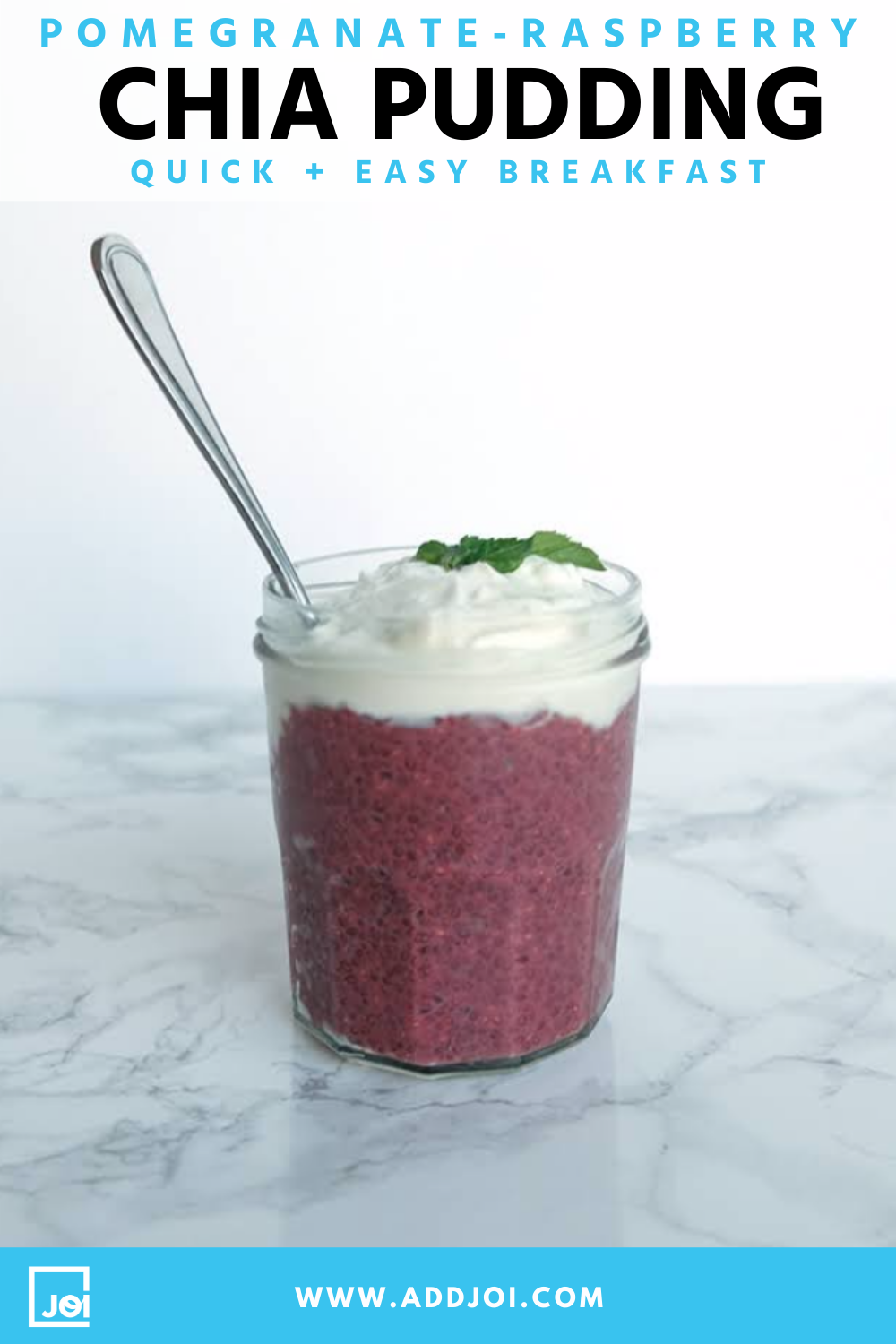 Pomegranate-Raspberry Chia Pudding (Vegan, Dairy-Free)
< BACK
Oct 8, 2019| By JOI team
Pomegranate-Raspberry Chia Pudding (Vegan, Dairy-Free)
Almond-Base |&nbspBreakfast |&nbspCashew-Base |&nbspChia Pudding |&nbspCreamer-Base |&nbspDairy-Free |&nbspKeto |&nbspOat-Powder |&nbspRecipe |&nbspSugar-Free |&nbspVegan |&nbspVegetarian |&nbsp
What do you get when you take two single ingredient products, combined with an homage to summer (raspberries), a hat tip to the autumn ahead (pomegranate), some superfood chia seeds, finished with a touch of salt and vanilla? You get your new breakfast obsession. 



We have been working with our friends at Just Date Syrup and together, we created this wholesome, delicious, and nutritious breakfast. You see, like us, Just Date Syrup is made of a single ingredient. And they recently launched their newest product: Just Pomegranate Syrup! They've gently reduced fresh pomegranates to concentrate their natural flavor, and added a touch of dates for sweetness to bring you a rich, delicious, and healthier sweet with nutritional power: low glycemic index, rich in antioxidants, and high in vitamins and minerals like potassium and magnesium.

Combine that with nutritious JOI plant milk bases, and what you have are the staples to next level your breakfast game. 
What Ingredients are in this Recipe?
The list is short for this easy recipe.  But the flavor combinations pack a punch!

Just Pomegranate Syrup gives this chia pudding the sweet-tart tang that pairs so well with...

Raspberries!

JOI plant milk concentrates enhance creaminess and nutrition

Add flavor comes from vanilla extract and salt

Of course the chia seeds magically plump up to deliver "pudding"
Is this Recipe Easy to Make?

This make-ahead recipe could not be easier to make.  Spend 5 minutes throwing it together the night before, and you've got a delicious breakfast waiting for you in the morning.
All you have to do is mix water, JOI, Just Pomegranate Syrup, vanilla, raspberries and salt for 30 seconds in a blender. Pour the mixture into a container and add chia seeds. Stir immediately to break up any clumps. Refrigerate for 2 hours or overnight. EnJOI!
What Other Healthy Breakfasts Can I Make with JOI?
From chia pudding, to overnight oats and baked goods, our recipe blog is a great place to fid inspiration for healthy breakfasts.  And lunches.  And dinners.
Here are some that might interest you:
Interested in stocking up on JOI? Get JOI via our SHOP page and Just Pomegranate Syrup at their website.