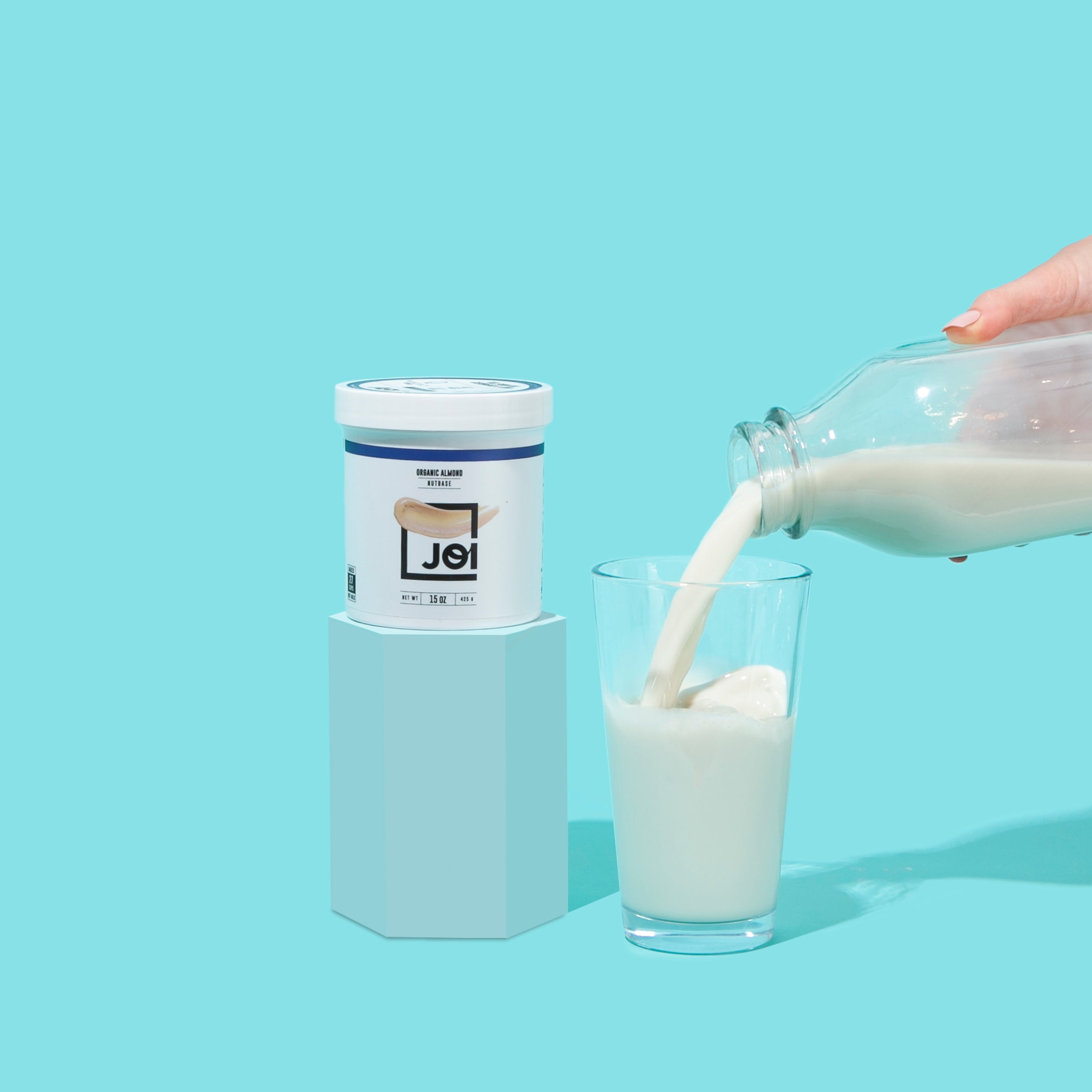 Celebrate World Plant Milk Day with 7 Plant-Based Milk Recipes to Take On the Dairy-Free Challenge
Aug 20, 2020| By JOI team
< BACK
Aug 20, 2020| By JOI team
Celebrate World Plant Milk Day with 7 Plant-Based Milk Recipes to Take On the Dairy-Free Challenge
Almond-Base |&nbspBeverage |&nbspCashew-Base |&nbspCreamer-Base |&nbspDairy-Free |&nbspKeto |&nbspOat-Powder |&nbspRecipe |&nbspSugar-Free |&nbspVegan |&nbspVegetarian |&nbsp
Happy World Plant Milk Day, JOI community! World Plant Milk Day is an international celebration dedicated to raising awareness of the health and environmental benefits of ditching dairy; the HUGE selection of plant-based milk alternatives available; and the nearly endless culinary possibilities plant-based milks open up. 
So, basically, it's our favorite day of the year here on the JOI team.
And, at the heart of World Plant Milk Day is their 7 day dairy-free challenge—which we are totally on board with. Whether you've been hemming-and-hawing about making a dairy-free commitment for who-knows-how-long or you're just curious to see how your system reacts to a dairy-free routine, this is your chance. (If you're already all-in on plant-based, feel free to participate, because sometimes we all need to bask in the glory of an easy win). Sign up for the official challenge to receive daily recipes and tips, but first, get inspired by these seven dairy-free swaps powered by JOI almond and cashew plant bases. We promise—no cow will be no problem.


Why waste time, money, and packaging purchasing grocery store brands when JOI makes it easy to make plant-based milk at home? Our 100% plant-bases are made with Just One Ingredient (JOI—get it now?) and remove all the hassle from homemade plant-milk. No soaking, no straining, no sweeteners or preservatives, and messy clean-up. Just add, blend, and enJOI, all on your terms.



Think cream is necessary to make your coffee creamy and delicious? Think again. Save on calories and saturated fat with this **unbelievably** satisfying vegan creamer. Just-sweet-enough and totally customizable, our Vanilla Maple JOI Almond Creamer is the dairy-free upgrade your morning routine has been waiting for.



No shortage of fitness gurus advocate for ditching the protein shake in favor of good ol' chocolate milk to get those #gains. But, there's way around the (somewhat alarmingly) high sugar content of traditional chocolate milk. Our dairy-free version of chocolate milk made with JOI offers up more healthy unsaturated fats plus lets you control for sugar by using unsweetened cocoa powder.



We love treating ourselves to coffee shop treats as much as anyone, but sometimes you just gotta reign it in, right? Our Dalgona Whipped Coffee gives you that same indulgent experience, but with a beautiful visual to share on all of your feeds. 



Who doesn't love a big bowl of cereal from time to time? No need to send yourself on an adulting guilt trip next time you reach for that sweet breakfast treat for dinner. Made with fresh strawberries and cane sugar, our vegan strawberry milk is healthy and delicious.



Speaking of the pure bliss of sugary cereal milk, New York City's wildly popular Milk Bar bakery has perfected the art. We've adapted their stroke of genius with our own vegan cereal milk made with JOI, so you can treat yourself without hesitation.



Dairy is hard on the digestive system—JOI's plant-based alternatives aren't. Double down on the favor you're already doing your system by incorporating this spicy plant-milk shot into your daily routine. It's a creamy, delicious way to super-charge your immune system and build on the benefits of a dairy-free diet.
Celebrating World Plant Milk Day with a JOI-ful treat? Tag us @addJOI and share your dairy-free delight on Instagram! Looking for inspiration to continue your dairy-free diet beyond the 7-day challenge? Check out our complete collection of healthy recipes made with JOI for breakfast, lunch, dinner, and everything in between.