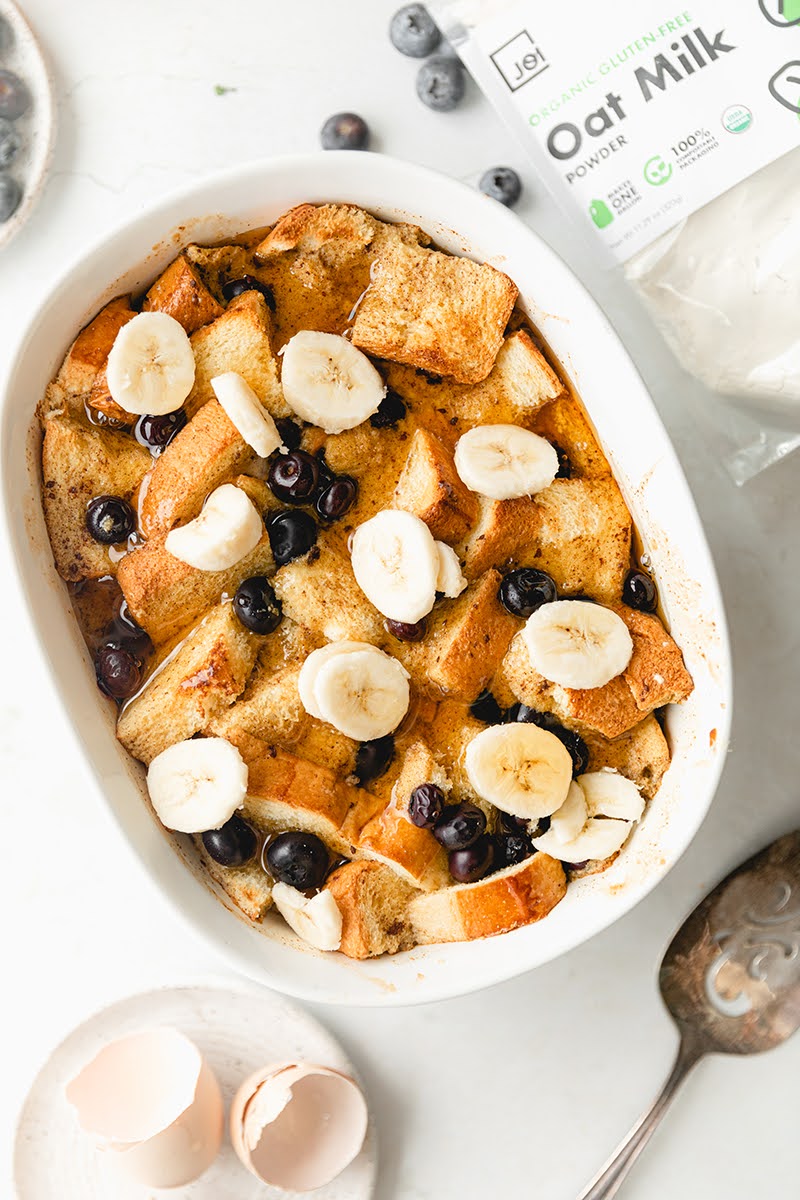 Mother's Day Vegan Recipe Round Up
< BACK
May 6, 2021| By JOI team
Mother's Day Vegan Recipe Round Up
Almond-Base |&nbspCashew-Base |&nbspCreamer-Base |&nbspDairy-Free |&nbspKeto |&nbspOat-Powder |&nbspRecipe |&nbspSugar-Free |&nbspVegan |&nbspVegetarian |&nbsp
Whether you're a Mom yourself with an ever-growing appreciation of all your own Mom did for you, or still just a kid (or kid at heart) hoping to atone for your latest sin against sainted Mom, cooking the lady a good meal is never a bad option, especially when that meal is brunch. Let us help you impress her with this sure-to-please vegan mother's day menu--your healthy choices and home-cooking skills are guaranteed to get bonus points.
Why Spoil Mom?
Moms do a lot. 
Like, a lot a lot.
Let's just take a second to tally it up. Across the board, Moms are the chief schedule masters, the homework gurus, the master 30-minute chefs, the sneaky (and vastly under-appreciated) housekeeping elves, the ones laying down the law, the ones planning the playdates and parties, and most importantly, the ones who can just make us feel good. 
You'll never find a perfect Mom, but every Mom is perfect in their own way--and we love them all. Which is probably why they have a whole holiday dedicated to them. Seems like the least we can do. But the big question now becomes, what are you going to do for this Mother's Day?
Answer: make her brunch!
First things first when it comes to brunch--coffee. Make a double batch, make it strong, and make sure you have a truly delicious creamer on table, because it's a holiday and we are treating ourselves.
For this quick and easy vegan Salted Caramel Creamer you need 3 simple ingredients: coconut sugar, salt, and JOI Cashew Hazelnut Oat Creamer base (original JOI cashew or almond base are also delicious). Blend it all up, and you have a super frothy, rich, and comforting creamer that will take Mom's brunch cuppa' to the next level.
Breakfast bakes always come out of the oven looking fancy, but the big secret is they're actually so easy. This vegetarian (or easily vegan) French toast bake (made with our oat milk powder) is no exception.
This brunch recipe has a super easy ingredient list: just take few eggs (flax eggs for vegan), fresh blueberries and banana slices, classic cardamom and cinnamon for spice, and fluffy brioche bread. These come together with creamy JOI plant milk for a decadent breakfast bake that ditches the heavy cream or custard. Move over cinnamon rolls!
Mom won't know she's eating health food. Note: this recipe was designed with our new Oat Milk, but JOI Cashew Milk works beautifully here too! Use whatever fresh berries will put a smile on her face.
Every good brunch spread needs something a little savory. This veggie-forward puff pastry is hearty thanks to a thick spread of JOI cashew base combined with nutritional yeast and flavorful hot sauce plus lemon juice to serve as a glue for the fresh asparagus.
If you're ambitious, feel free to make your own puff pastry dough (and brag to Mom). Otherwise, no judgement for leaning on your favorite frozen brand (vegan or not!).
Packed Mother's Day brunch schedules are a thing in some families--and sometimes, when it's 11am (or so), you just don't actually want that heavy of a meal. That's why we highly suggest including some lighter morning fare on your brunch menu--like these Vegan Almond Breakfast Bars.
JOI almond base acts as the glue for these bars made up oats, oat flour, flaxseed, grated fresh apple, maple syrup, spices, and whole almonds. Pair with a scoop of our homemade vegan yogurt for a perfect light brunch snack for you or Mom.  A delicious vegan recipe to make year round!
Especially if you're erring later in the day for brunch, including a veggie side can be a great addition to the spread. We love these simple whole roasted carrots with just a drizzle of creamy vegan balsamic. No need for mayo in this sauce--JOI plant base provides all of the richness, in vegan format. Save the green carrot stems to plate and really impress Mom with how fancy you've gotten.  Or swap out the carrots for sweet potato instead!
Don't worry--we haven't forgotten to include a nice, stiff brunch drink. Our Dairy Free Irish Coffee (make it with almond milk!) is a delicious way to round out (or start) the meal. And it's going to pair perfectly with everything else on the menu. We highly suggest using a blender for maximum frothiness.
Ready to get cooking for Mom? Don't forget your favorite JOI plant bases first. And please--don't make Mom do the dishes!