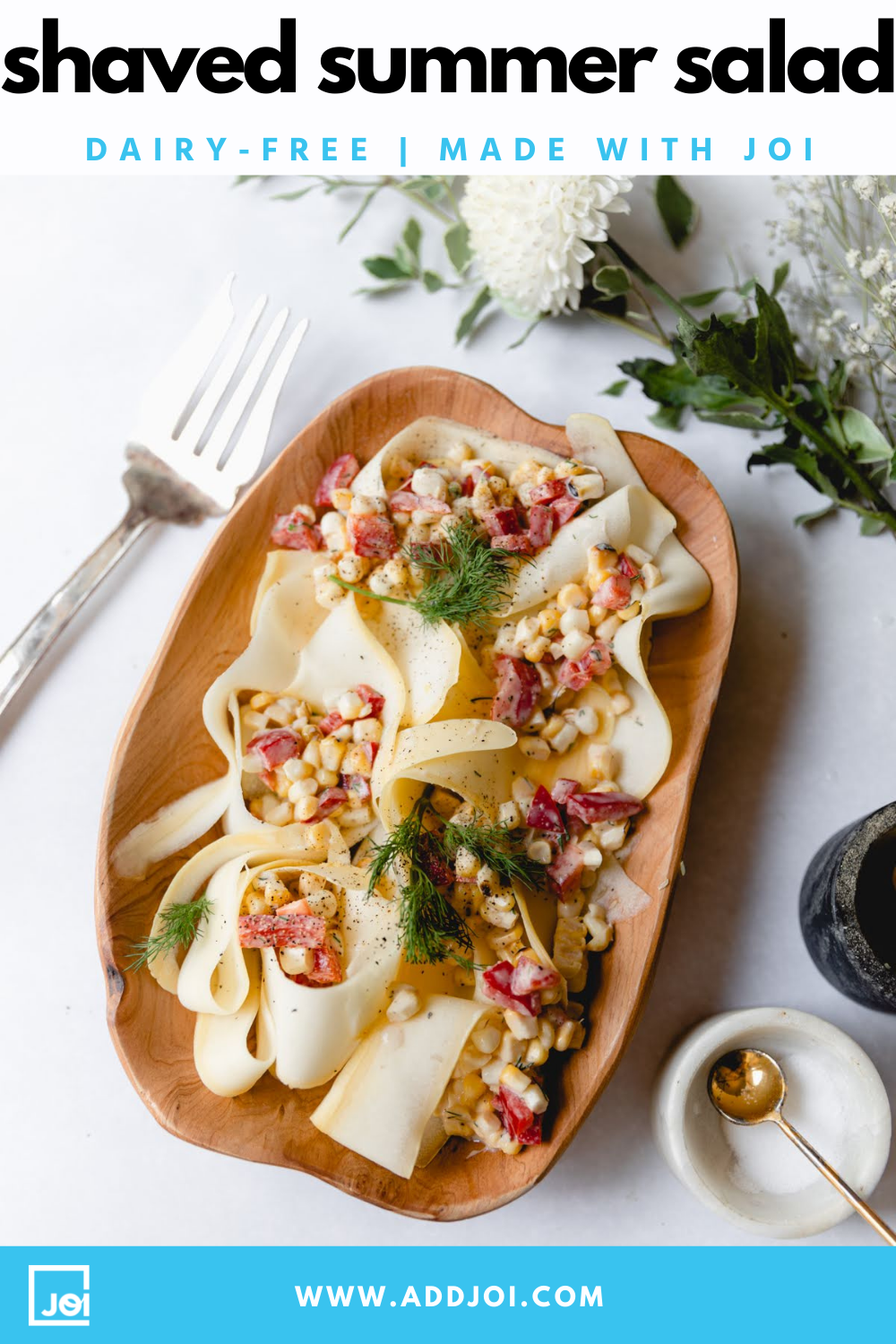 Shaved Summer Squash Salad Recipe
Jul 28, 2023| By JOI team
< BACK
Jul 28, 2023| By JOI team
Shaved Summer Squash Salad Recipe
Almond-Base |&nbspCashew-Base |&nbspCreamer-Base |&nbspDairy-Free |&nbspDressing+Dip |&nbspKeto |&nbspOat-Powder |&nbspRecipe |&nbspsalad |&nbspSugar-Free |&nbspVegan |&nbspVegetarian |&nbsp
Big on nutrition and taste, and low on effort, this summer squash salad is a great choice for warm summer days when there are better things to do than spend hours in the kitchen. Whether you are dining al fresco, packing lunch boxes, headed to a BBQ or picnic, this colorful nutrition-packed salad is the perfect option.
Why make THIS shaved squash salad?
Quick, easy, healthy, and delicious are the requirements for summer dining! That's why summer squash salad is one of our all-time favorites.  
Sweet corn, peppers, and zucchini are perfectly dressed with a tangy delicious dill vinaigrette.  That means you're making the most of all of the sweet produce of summer.
Also, it's a no-cook, no-hassle option that is tossed together easily.  Skip the stove and serve this show stopper on your cook-out dinner table.
Did we mention this salad is delicious?  Beautifully seasoned with a simple dressing of sea salt and black pepper, garlic powder, lemon zest and juice, olive oil, and a generous portion of JOI, this dairy-free but creamy vinaigrette will wake up all those fresh veggies. 

That's right, fast, dairy-free AND creamy.  Great as a substitute in recipes where soaked, blended cashews are called for to add creaminess, having a tub of JOI on hand saves time and inconvenience.  Make extra dressing and use it to flavor all your favorite summer salads and grilled vegetables.  
Read on to dig in even more!
Why "shaved" squash?
Shaved squash looks good, and it's a quick and easy technique that is sure to impress!  Just use a vegetable peeler to thinly slice and shave the squash, cutting down on prep time. In a large bowl, toss the ingredients together, use a small bowl whisk to combine the dressing ingredients, add to the salad, mix and serve.
Versatile
The flavors of the individual ingredients fuse beautifully, creating a tasty, satisfying salad that works well as a light lunch dish, or as a side to a larger meal.  Serve it with a cold soup such as this Green Grape Gazpacho or cold Tomato Soup and crusty bread and dinner is served! 
This salad keeps well, so you can rest assured that it if you bring it along to a social gathering it can sit until it's time to serve.
Nutritious
Beautifully simple and very tasty, this summer squash recipe packs a powerful nutritional punch.
JOI cashew plant base is a creamy, dairy-free product containing just one ingredient:  that's right, cashews.  
Cashew nuts used in JOI are high in magnesium, zinc, iron, and protein. A known source of antioxidants, they may help to improve heart health and lower cholesterol.  
JOI also adds a punch of protein. The other veggies are great sources of nutrition.  Red peppers are packed with potassium, Vitamins A and C, and are a good source of fiber.
Summer squash is an absolute powerhouse of nutrition! Containing manganese, B6, Vitamin C, riboflavin, fiber, Vitamin A, and potassium, it's an amazing source of nutrients that do your body good.

The Recipe
More Salads!  More Squash!  More Recipes!
Looking for more delicious salads and recipes that are perfect for summer?
Check out these great creamy dressings:
For more ways to use summer squash, check out these recipe ideas: