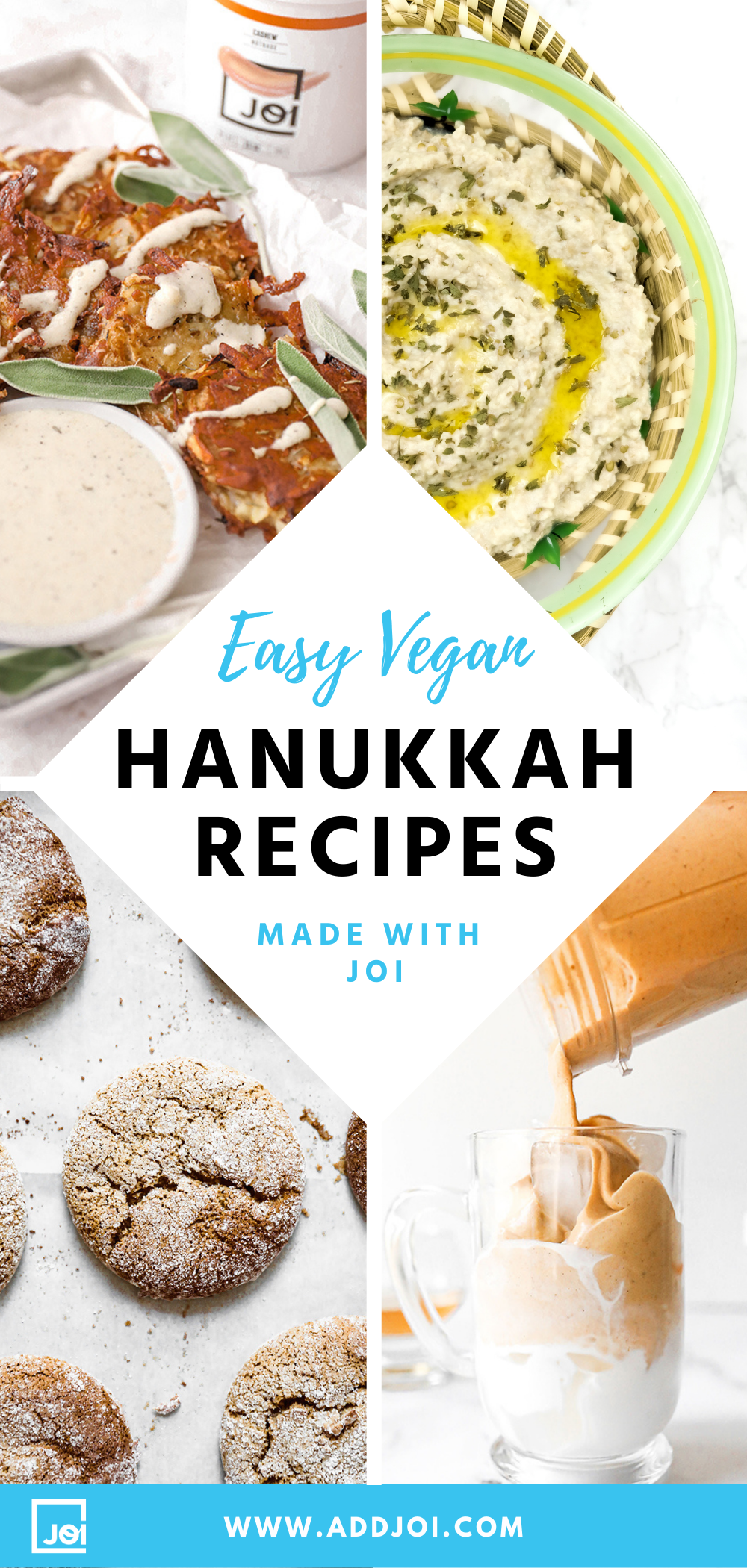 Vegan Takes on Hanukkah Traditions to Plan Your Perfect Holiday Menu
< BACK
Dec 9, 2020| By JOI team
Vegan Takes on Hanukkah Traditions to Plan Your Perfect Holiday Menu
Almond-Base |&nbspCashew-Base |&nbspCreamer-Base |&nbspDairy-Free |&nbspKeto |&nbspOat-Powder |&nbspRecipe |&nbspSugar-Free |&nbspVegan |&nbspVegetarian |&nbsp

In the Jewish faith, Hanukkah is the 'Festival of Lights'. But, 'light' is not the first word that comes to mind when thinking about a traditional Hanukkah menu (or really, any holiday menu). 
Anyways, a quick history lesson. Hanukkah celebrates the victory of the Maccabees over the larger Syrian army, and their rededication of Jerusalem's ancient temple. Legend has it that when the Maccabees reclaimed the temple, they found only enough oil to light the Menorah for one night. Eight days later, the Menorah was still burning and now, we celebrate that miracle with the best nod to oil there is: fried foods. And while no one's arguing with how delicious a traditional sufganiyot jelly donut, latke, or fritter is, they're also never going to be mistaken for health food. And when paired with other Jewish culinary favorites, like creamy kugel, roasted chicken, and indulgent brisket…yeah, options can get slim for those of us following a vegan or dairy-free diet. But they don't have to be.
This year, get a little creative and you can put a Hanukkah feast on the table that fits your healthy lifestyle, plus keeps traditional elements on the menu. We've put together our favorite dairy-free and vegan appetizers, mains, desserts, and drinks made with JOI plant bases to help you plan your perfect celebration:
Appetizers
Potato Latkes with Vegan Sage Garlic Sauce

It's just not a Hanukkah meal without latkes. JOI cashew base helps these classic potato cakes hold up during frying and ups the creaminess factor without the guilt.
Every party needs a dip, and baba ganoush always delivers. Made with eggplant and JOI, it's like hummus, but a little lighter and a little creamier. We suggest a double batch.
Main Course
This quintessential comfort food is a perfect decadent star for your vegan Hanukkah meal. Loaded with veggies, JOI plant base ties the filling together and makes for a truly rich meat and dairy-free main course.
Dessert
Almond Molasses Crinkle Cookies
Ooey, gooey, and oh-so-moist-and-fluffy, these warmly spiced vegan cookies are a perfect small bite for Hanukkah dessert (or appetizers—it is a holiday!).


5 Ingredient Vegan Chocolate Truffles
Chocolate gelt, or coins, are a classic Hanukkah treat. Why not get creative with your chocolate treat this year and opt for these healthier, homemade, and way more indulgent vegan truffles? No one has to know how easy they are to make.
Apple is a frequent star of Hanukkah dessert spreads. This cinnamon spiced vegan cake is made extra rich with JOI plant base—adding the maple syrup glaze is definitely worth it!
Raspberry & Apricot Jam Almond Thumbprint Cookies
Get the jelly donut experience, without the deep-fried guilt (or sugar coma). It's a win-win.
Drinks
The JOI + Coconut Cartel Coquito
This creamy rum delight might be more traditional on Puerto Rican holiday menus, but it is hands-down a recipe worth borrowing. 
Ready to enjoy a super indulgent adult beverage that combines classic fall flavors with one of the best after-dinner drinks around? Look no further—and serve over milk made with JOI cashew base for perfect holiday presentation! 
In search of a little pick me up to start off your Hanukkah celebration and keep you energized during your cooking marathon? This cocktail mixes chai steeped in creamy milk made with JOI, espresso, and vodka for a perfectly balanced holiday treat.
Looking for even more healthy options made with JOI to spice up your vegan Hanukkah menu? Check out our complete recipe collection!