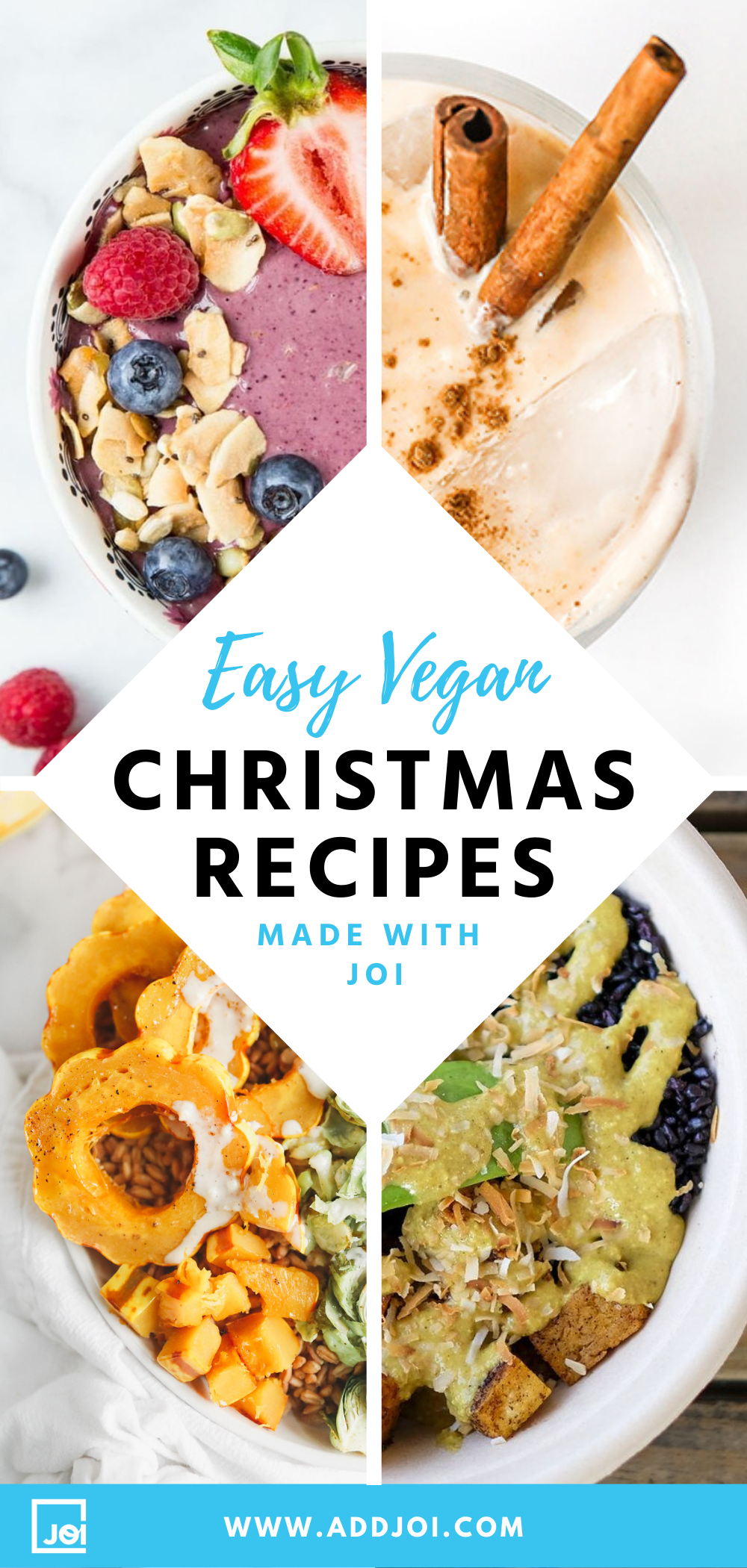 15 Easy and Delicious Recipes for a Vegan Christmas Menu 
Dec 21, 2020| By JOI team
< BACK
Dec 21, 2020| By JOI team
15 Easy and Delicious Recipes for a Vegan Christmas Menu 
Almond-Base |&nbspBeverage |&nbspBreakfast |&nbspCashew-Base |&nbspCreamer-Base |&nbspDairy-Free |&nbspDessert |&nbspDinner |&nbspHoliday |&nbspKeto |&nbspLunch |&nbspOat-Powder |&nbspRecipe |&nbspSnack |&nbspSugar-Free |&nbspVegan |&nbspVegetarian |&nbsp
Whether you're channeling all your nervous energy into spreading as much cheer as social distancing makes possible, or just counting down the days till the Times Square ball drops on this mess of a year, the Christmas holiday is upon us. And even though the parties may be cancelled, you still gotta eat. The JOI team can help with that ;)
Since absolutely nothing else is going on, we suggest passing the holiday hours in the kitchen, celebrating survival of 2020 with a full day's menu of delicious, healthy, and vegan-friendly snacks, entrees, beverages, and treats, all made with JOI plant-bases. Think of it as culinary practice to absolutely knock the Christmas socks off your friends and family when we're back to actually spending time together next year (**knock on wood**).
Coffee
It's a holiday, so get the coffee pot on early and no judgement for keeping it full all day. YOLO.
Our Gingerbread Latte is the perfect homemade holiday season treat that won't leave you in sugar coma. Just blend coffee and water with JOI plant base, a dap of vanilla extract, some seasonal cinnamon, ginger, allspice, sweetener of your choice, and ice for a creamy pick-me-up guaranteed to get you in the spirit.
Remember this start-of-quarantine throwback? It's fun, indulgent, and totally extra--basically, just what we've all needed this year, and a perfect holiday caffeine treat.
As you watch the kids tear open presents from Santa, enjoy this unique take on a timeless and classic Christmas drink: eggnog. Christmas morning just got that much better.
Breakfast
There really is something special about Christmas morning. Make it even better by starting a new breakfast tradition.
Gluten-Free Banana JOI Pancakes
Que up Jack Johnson on the smart speaker. With sliced bananas and shredded coconut on top, these gluten and dairy free banana JOI pancakes are guaranteed to get the kids (and adults) out of bed.
Berrylicious Acai Smoothie Bowl
This superfood breakfast is also super tasty. Sub in your favorite fruits or add toppings like nuts, granola, or seeds to live your best life this Christmas.
Wake your family up to the sweet smell of cinnamon wafting through the house. This coffee cake is made for slow and cozy mornings cuddled up with a good book.
Lunch
Keep the Christmas cookie snacking in check with a nutritious but not-too-filling midday meal.
Della Bowls' Secret Yellow Sauce for the Perfect Rice Bowl
We always enJOI a big, satisfying veggie bowl for a healthy lunchtime power-up, but the right sauce is the difference between uninspiring food-as-fuel and a truly delicious meal. This versatile yellow sauce from our friends at Miami's Della Bowls is the perfect finishing touch for all kinds of combos. 
White beans, kale, and sun-dried tomato add a pop of Christmas colors, plus make the most comforting and cozy soup that is packed with things that are good for the body. 
Warm Farro Salad with Cashew & Cracked Pepper Dressing
There's nothing quite like a hearty grain and roasted veggie salad to satisfy comfort food cravings without leaving you in dire need of a post-meal nap. Fuel up for afternoon family activities with this fiber, protein, and flavor-packed lunch.
Dinner
Impress your loved ones (or yourself) with a big, fancy Christmas dinner--we highly encourage ditching the standard 2020 sweats ensemble for fancy clothes, just briefly, just because. 
Veggie Lasagna with Vegan Riccotta
Is there really a better feeling than digging into a perfectly layered lasagna--especially when it's the centerpiece of a warm holiday table? Nope, we didn't think so.
Creamy Jackfruit Enchiladas with Salsa Verde
Who says Christmas dinner needs to be traditional? These zesty vegan enchiladas cut through the richness of typical holiday meals without sacrificing any of the indulgence factor.
This creamy sauce is a versatile holiday dinner star. Serve it over pasta, top a crispy flatbread, spoon over your favorite rice, or just scoop it up with chips--whatever your preferred method, the outcome will be hearty and delicious.
Dessert
The all-day-long cookie snacking is no reason not to put together a true Christmas dessert.
Calling all chocolate lovers! This chilled chocolate mousse served with berries is a guilt-free, three-bite treat that's guaranteed to satisfy your sweet tooth.
Raspberry & Apricot Jam Almond Thumbprint Cookies
Thumbprints are a classic holiday cookie option--with good reason! Uphold the traditions of yore, but make it vegan and healthy-ish. 
5 Ingredient Vegan Chocolate Truffles
Why buy expensive truffles at the store when you can easily make your own with just a few ingredients? Make extra and bag them up last minute gifting guaranteed to impress. 
From the JOI family to yours, wishing all a happy, socially distanced holiday season, filled with family, friends, Zoom calls, and of course, amazing food. Find even more inspiration for JOI-ful vegan holiday menus on our recipe blog!