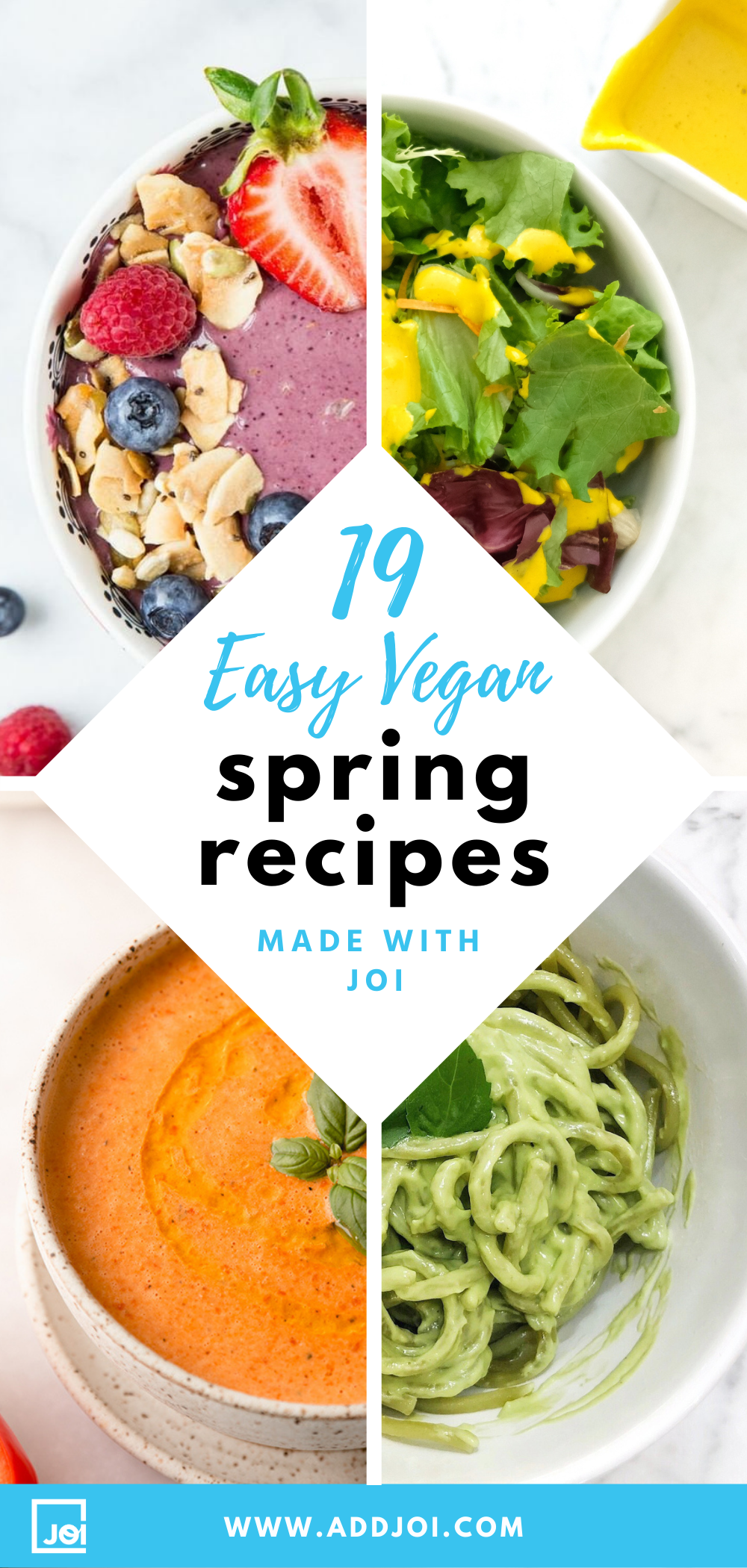 19 Vegan Spring Recipes Made with JOI for Healthier Eating All Day Long
Mar 31, 2021| By JOI team
< BACK
Mar 31, 2021| By JOI team
19 Vegan Spring Recipes Made with JOI for Healthier Eating All Day Long
Almond-Base |&nbspBeverage |&nbspBreakfast |&nbspCashew-Base |&nbspCreamer-Base |&nbspDairy-Free |&nbspDessert |&nbspDinner |&nbspHoliday |&nbspKeto |&nbspLunch |&nbspOat-Powder |&nbspRecipe |&nbspSnack |&nbspSugar-Free |&nbspVegan |&nbspVegetarian |&nbsp
This post was originally written during COVID.  We have retained the original text.
Because you aren't already well-aware, let us remind you--the past year has been a year. And this past winter? Yeah, it's dragged on (and on, and on…). But, Easter (and spring for that matter) is here, vaccines are rolling out, and things are finally looking up. Dare we say it's just about time to hit the 'reset' button on normal life? YES. PLEASE.
Step one on that journey back to normalcy is ditching the pandemic bad habits we've all picked up. Whether your coping mechanism of choice has been work from home snacks, late night ice cream, a few extra glasses of wine or beer, or maybe a little bit too much support of your favorite local restaurants' delivery services, spring has sprung, and it's the perfect time to institute some new healthy eating goals. To help, we've rounded up nineteen of our very favorite light and fresh recipes made with JOI for clean eating in warmer weather and of course Easter weekend. From smoothies and coffee to snacks and entrees, we've got your healthy spring reboot covered.
Power-Packed Breakfasts
JOI's Go-To Vegan And Dairy Free Berrylicious Smoothie Bowl
Super-nutrient 'bowls' may be trendy, but they're definitely not new. The idea of blending healthy fruits with a liquid to achieve creamy, filling deliciousness dates back to the early 20th century. Now, in 2021 these power-house combos are having a moment and we're all for it—especially when JOI plant base milk is involved. Our favorite recipe is rounded out with frozen berries, a banana, and a little bit of avocado and almond butter for extra healthy fats, but we highly encourage imagination (and fridge cleaning) to make this smoothie uniquely yours!
Dairy-Free Raspberry & Cream Breakfast Cake
Cake for breakfast? Sign us up! Better yet, this one won't leave you reeling from a morning sugar high, and can easily be made vegan by swapping out egg yolks for chickpea flour and water. Top with whip of your choice (or full-fat coconut cream for a vegan option) and a sprinkling of spring-y berries and you've got a beautiful, decadent baked good just begging to be shared at brunch.

Just-Sweet-Enough Lemon Glazed Poppy Scones
Lemon is one of those secret-weapon flavors when it comes to baking—and these glazed scones deliver! Fresh, tangy, crumbly, and just the right balance of sweet and savory, this recipe is a perfect breakfast treat for a leisurely weekend morning or fancy brunch with friends and family. Plus, they can easily become a low-sugar option by omitting the glaze.
Don't be fooled by the name—this smoothie packs a nutritional punch that definitely takes it out of the dessert realm (but it's still super tasty). Vegan maple syrup and the classic spice combo of cinnamon and nutmeg plays up the natural sweetness of carrots, while coconut whipped cream and shredded coconut stand in for heavy cream cheese frosting. The result? Decadent and healthy, and sure to get any spring day off to an outstanding start.
Superfood Wellness Smoothie That Takes the Hard Work out of Healthy Eating
Smoothies are a great way to work in some creative ingredients to your regular diet. Case in point: our Superfood Wellness Smoothie made with coconut water, JOI, and blue spirulina-algae powder. Yes, we are telling you to make a smoothie with algae, aka the stuff that grosses you out at the beach, but when it comes to healthy eating, have we steered you wrong yet? Give this nutrient packed (and truly tasty) smoothie a try.

Vegan Spicy Mocha Smoothie to Add Buzz to Your Typical Routine
We LOVE smoothies, but it can be easy to fall into a bit of smoothie rut. If you're getting tired of the same basic fruit/milk/yogurt/nut butter/juice combo over and over again, we've got the perfect recipe to switch things up: our Spicy Mocha Smoothie made with JOI. The secret ingredients? Espresso powder for a bit of caffeine kick and just a pinch of cayenne for an addictively rich, just-sweet-enough flavor.
JOI's Pink Superfood Smoothie Made with Pitaya, Goji Powder, and Chia Seeds
Maybe you've heard the hype (or become mildly addicted to) a certain coffee mega-chain's pink colored drink. Meet our healthier version with all the fruity satisfaction and none of the drive-through guilt. Combining JOI plant base with the bright, sweet flavor of pitaya, the sour punch of goji powder, and the subtle texture of chia seeds, this is one seriously addictive smoothie you can feel good about making every day (or maybe twice a day).
Energy Boosting Green Smoothie
Greener spring mornings call for a little green boost to your morning smoothie, right? This combination with kale, spinach, and JOI plant base is vitamin-packed to ensure an energetic start that will help to power you through the longer, brighter days.
Deceptively Indulgent Dips, Dressings, and Sauces


Versatile Vegan Crema for All Your Topping and Dipping Needs
The weather is getting warmer, and what tastes more delicious than a fresh, cool crema sauce to pair with everything from springtime vegan tacos to crispy avocado fries to simple chopped veggies? This simple vega crema made with JOI plant base is super creamy, super easy, and super addictive, and can be made with your basic pantry staples!

Vegan Queso Perfect for Your Next Plant-Based Snack Attack
Going vegan does not mean you have to give up some of life's little pleasures—like silky smooth, decadent, savory queso. Creamy JOI nutbase comes together with rich spices to create a plant-based, gluten-free, vegan queso like no other. It's hands down delicious, 100% whole-food, and entirely guilt free.

Creamy Vegan Sunshine Dressing Perfect for Al Fresco Spring Meals at Home
Our vegan Sunshine Dressing made with JOI plant base is fresh, flavorful, and just the right blend of savory and sweet. Drizzle on top of a hearty entrée salad filled with nuts and seeds, use it as 'glue' for a hearty roasted veggie sandwich, or dip with grillables of your choice (we suggest portabella caps, eggplant steaks, or for you meat eaters, chicken breasts). Eating in isn't bad, right?

Restaurant Worthy Vegan Spinach Artichoke Dip
Spinach artichoke dip might make you think more sports bar than healthy eating, but it's not too good to be true—we have created a guilt-free vegan version. It's made possible by using JOI Almond base to create a thick and creamy "sauce" that forms the base to an amazing dairy free dip.

Lightened-Up Poppy Seed Dressing
Poppy seed dressing is a favorite bright spring flavor—but all too often the health factor ends at the veggies it's topping. We've lightened up this creamy classic by swapping out the mayo and sour cream for JOI almond plant base. A little sugar keeps things sweet and apple cider vinegar provides the tangy factor everyone loves. We highly recommend shaking up this dressing with simple torn kale, shredded cabbage, and dried cranberries for an irresistible warmer-weather lunch. 
Super Healthy Springtime Soups


Vegan Roasted Red Pepper Bisque
PSA: creamy soups can be healthy. They can also be fabulous springtime fare. The key is relying on plants instead of dairy. For this vegan bisque, we simply roast up a sheet pan of bell peppers, onion, carrots, and garlic, then toss it all into a food processor (or heavy duty blender) with some olive oil, vegetable stock, salt and pepper. Garnish with fresh basil, and voila, you have made a bisque. You may now officially consider yourself fancy.


Easy Weeknight Herbed Pea Soup
Peas don't always have the best reputation—they're one of those foods that some of us still have childhood dinner table PTSD from. But, they are also a quintessential spring flavor, and really good when they're prepared right. This ridiculously simple soup made by blending frozen peas with JOI cashew nut base, fresh green herbs of choice, green onion, lime juice, garlic, and vegetable stock hits the mark. You'll never think of peas the same again.
Veggie-ful Warmer Weather Entrees
Move over chicken salad, it's time to let the vegan options take their turn. This little beauty comes together in just ten minutes and is every bit as delicious enjoyed over salad greens or as a sandwich. Simply combine chopped vegetables like celery, red onion, and parsley with herbs and a can of drained chickpeas for the base of your salad. Dress with a simple, creamy vinaigrette of mustard, JOI plant base, and a pinch of salt and pepper. Prepare to be addicted.
Vegan Cashew Pesto Flatbread with White Beans & Kale
Is there a better appetizer-turned-meal than a good flatbread? We sure don't think so. This version is savory, hearty, and satisfying thanks to a quick basil pesto blended with JOI cashew plant base paired with filling white beans. Add chopped kale and seasonings of choice and you've got the easiest entree to share with a few friends or keep all to yourself. White wi ne highly recommended for a patio pairing.

At-Home Gourmet Vegan Springtime Risotto
Risotto is one of those dishes that comes with a certain fear factor for many at-home chefs. It's indulgent, a touch fancy, and kind of high maintenance. It's also delicious, and once you get the basic technique down (and mentally prepare for some stovetop babysitting), it's not actually difficult to prepare. This version, with the addition of fresh asparagus, broccoli, and peas, is all the spring flavors you're craving wrapped into one and sure to satisfy even the most discerning of foodies.

Next-Level Avocado Pasta Sauce
Avocados always looks so tasty at the grocery store—and your intentions of homemade guac and avocado toasts are always so good. But all too often, they hang out a couple days too long in the fridge. What to do with a prize avocado on its last legs? Throw it in a blender and make a pasta sauce! With just a little JOI cashew base, lemon juice with zest, olive oil, garlic, and herbs of your choice, you'll have a dinner-worthy pasta sauce ready in minutes.
Ready to get cooking? Make sure you're stocked up on JOI plant base. Get 10% off when you subscribe for our newsletter, The Blend!